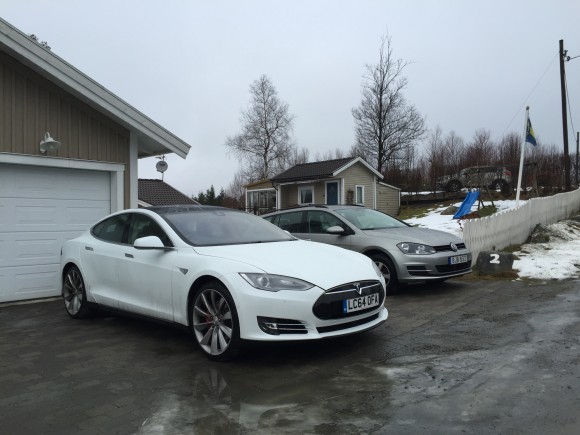 AFTER a lot of driving on grey motorways and across nothing landscapes through Germany and Denmark, Sweden finally played an ace card for scenery.
Our stay for the night was, in fact, a small cabin in the woods. As we got closer the snow got thicker, but as we didn't arrive until 11.30pm it wasn't until the next morning that we could take in the surroundings.
We headed out to see what we could find, as the giant Tesla touch-screen map was showing huge lakes (or fjords to give them their correct name) around us.

After a very long day at the fjords we're at our final stay and ready for Oslo in the morning 🙂 pic.twitter.com/5pcoxNkYgn

— Becca Chaplin (@BelieveBecca) February 12, 2015
Street view hadn't offered up a lot of interest and grey clouds which filled the sky were getting our spirits down. We followed our instincts, looking for cliffs on the horizon and as they fell away we witnessed the most breathtaking views from our road trip.
Brave Jonny Fleetwood and I scaled the slate cliffs, as you can see below, for some shots of the Model S that you'll be able to see in the next issue of Car Dealer.
He's not scared @jfleetwoodphoto https://t.co/XNHPEr4Ugj

— Becca Chaplin (@BelieveBecca) February 12, 2015