Here's your business, motoring and news round-up for Saturday, August 1
Jobs 'crisis' warning as furlough wind-down begins and businesses remain closed
Businesses expecting to reopen in England have been told to keep their doors shut on the day the furlough scheme preventing job losses begins winding down.
Beauty salons, bowling alleys and other leisure venues were scheduled to welcome customers today for the first time since the coronavirus lockdown, while small wedding receptions and indoor performances were set to resume.

But the prime minister delayed the measures in order to control the spread of virus for at least a fortnight, just as employers start paying National Insurance and pension contributions for furloughed staff, before having to contribute to their salaries next month. Read more
Burger chain Byron to slash jobs and shut restaurants
Burger chain Byron is to close 31 restaurants with the loss of 651 jobs, despite the restaurant brand being rescued from administration.
Administrators at KPMG said that the brand and certain assets have been sold to newly-formed company Calveton, in a move which will protect its 20 remaining sites and 551 employees.

It is now the latest chain to take decisive action, with Zizzi owner Azzurri closing 75 sites and Cafe Rouge owner Casual Dining Group closing 91 restaurants in recent weeks.
Rain and fresher weather after UK records its third hottest day ever
Rain and fresher weather is expected over the weekend after Friday was the third hottest day ever recorded in the UK.
Temperatures reached 37.8C (100F) at London's Heathrow Airport at 2.41pm and also reached 37.3C (99.1F) at Kew Gardens, in west London, the Met Office said. It sparked large crowds to flock to beaches.
Brighton & Hove City Council tweeted it was 'concerned about the number of people in the city', and stated that 'large numbers make it impossible to maintain physical distancing'.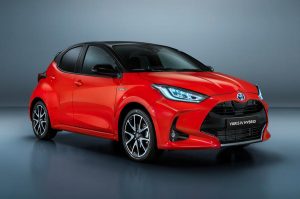 Toyota names Yaris price
Toyota's brand new Yaris is now on sale with prices starting at £19,910.
The Japanese supermini has been completely redesigned and features a new platform and just a three-cylinder hybrid engine.
The range starts with the Icon at £19,910 which gets a reversing camera, alloys and a seven-inch touchscreen. The range-topping Excel starts at £22,220 and features a head-up display. Deliveries start in September.
Train company debts to appear on national balance sheets
Train operators' debts will appear on national balance sheets following emergency measures introduced in March, the UK's official statistics body has announced.
The Transport Salaried Staffs' Association (TSSA) claimed the decision by the Office for National Statistics (ONS) shows Britain's railways are in public ownership, but this was disputed by the industry.
All revenue and cost risks from train companies were transferred to the UK and Scottish governments following the collapse in demand caused by the coronavirus pandemic. This has already cost taxpayers at least £3.5bn
FTSE tumbles into the red
The London markets tumbled after the government pushed back plans to reopen a raft of leisure venues.
Investors baulked after it was confirmed that casinos, bowling alleys and music venues have had reopening plans delayed due to concerns over the spread of the coronavirus.
The FTSE 100 closed 92.23 points lower at 5,897.76p at the end of trading on Friday.
Dividend in focus as BP investors look to oil giant's results
Oil giant BP will be revealing its dividend next week, sparking rumours among investors of what it will be.
BP not only kept, but slightly raised, its dividend three months ago when it presented first quarter results, flying in the face of some of its closest rivals. By keeping it up for the rest of the year will likely make BP the most generous company in the FTSE 100.
But needing money for his plans to supposedly turn BP into a 'net zero' company, boss Bernard Looney might want to slash the payout for the first time in a decade.
And looking at the weather forecast…
Today
Fresher conditions will take hold today, reports BBC Weather, with a mixture of sunny spells and scattered showers. Still warm across England and east Wales though, especially in the south-east.
Tonight
Dry and clear spells in the south and east, showers across the north and west, merging into longer spells of rain across Scotland and parts of northern England. A cooler night.
Sunday
A mixture of sunny spells and showers across Scotland and northern England, a few of which could become heavy. Cooler again.