Here's your news, business and motoring round-up for Monday, August 10
Redundancies set to increase in UK firms
One in three companies expect to make redundancies by the end of September a new survey has found.
The CIPD-Adecco survey the jobs market will continue to shrink through the summer quarter, with the number of employers expecting to hire workers falling further below the number planning for redundancies.

More than four in 10 (42 per cent) had applied recruitment freezes, the sharpest examples coming in the hospitality sector (65 per cent), business services (54 per cent) and in IT (52 per cent). Meanwhile 18 per cent of employers instituted pay cuts, 26 per cent bonus cuts, and 33 per cent froze or delayed pay rises. Pay cuts were most prevalent in construction (44 per cent), business services (30 per cent) and hospitality (29 per cent).
Widespread calls to boost testing
Boris Johnson is facing widespread calls to boost coronavirus testing and tracing in order to safely reopen schools to all pupils without imposing further restrictions on businesses or social lives.
The prime minister said it is the 'national priority' to get children back in class in England next month, but he has been warned by scientific advisers that 'trade-offs' may be necessary to keep transmission down.

Teachers, scientists, opposition politicians and the children's commissioner for England Anne Longfield have all called for improvements to testing before pupils return.
UK pledges more aid after Beirut explosion
The International Development Secretary has pledged to 'stand by the Lebanese people' and promised another £20m in aid following the devastating explosion in Beirut.
The blast in the city's port on Tuesday is now known to have killed more than 150 people and destroyed large parts of the city.
The new package of support is in addition to £5m already given by the UK government and comes after one British aid worker said the impact of the explosion can be seen six miles from the epicentre of the blast.
More than 22,000 restaurant jobs slashed so far in 2020
More than 22,000 restaurant jobs have been shed so far this year.
Figures from the Centre for Retail Research showed that 22,039 roles were lost and it said this represents a 95.4 per cent increase on the 11,280 job losses reported during the whole of 2019.
The figures also revealed that 1,467 restaurants and casual dining outlets have closed over this period, representing a 59.1 per cent increase on the total 922 sites which closed during 2019.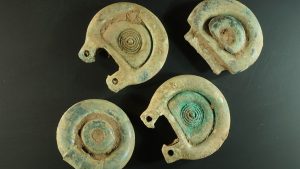 Metal detectorist unearths 'nationally significant' Bronze Age hoard
A metal detectorist has discovered a hoard of Bronze Age artefacts in the Scottish Borders which experts have described as 'nationally significant'.
Mariusz Stepien, 44, was searching a field near Peebles with friends on June 21 when he found a bronze object buried half a metre underground, and spent the next 22 days investigating.
Among the items found were a complete horse harness – preserved by the soil – and a sword which have been dated as being from 1000 to 900 BC. Stepien said: 'I was over the moon, actually shaking with happiness'.
Businesses pushed into highest debt in 13 years
British businesses are more in debt than at any point for the last 13 years as they try to stay afloat during the coronavirus pandemic, a new study has found.
Business lending is set to grow by 14.4 per cent this year, according to estimates from EY Item Club, compared with a two per cent increase last year, and a 1.4 per cent average decrease between 2010 and 2019.
In March, banks lent just over £30bn, about 100 times usual amounts, but lending to individuals has fallen sharply in the last few months. Demand for consumer credit will fall 15.9 per cent, according to the EY predictions. Read more
Hyundai hives off Ioniq as a brand
Hyundai has hived off its Ioniq name into a new EV sub-brand.
Three Ioniq models will launch over the next four years, starting early next year with the Ioniq 5, a midsize crossover..
The firm celebrated the brand's launch by turning the London Eye into a giant letter 'Q' with electric lights. Read more
Clearing could be 'busiest' yet
Universities face their 'busiest' ever period of clearing as a record number of students are due to take up degree places this year through the system, the head of the admissions service has predicted.
School leavers who have had their gap year plans disrupted by Covid-19 will be among those who choose to bypass the main application scheme in favour of searching for a course through clearing, Ucas said.
With less than a week to go until students receive their A-level results, nearly three in four of the UK's top institutions have vacancies on their undergraduate programmes on the clearing website. Clare Marchant, Ucas's chief executive, believes as many as 80,000 applicants could find a place via clearing, up from 73,325 last year.
Connery is UK's favourite Bond
Sean Connery has been voted as the best ever James Bond.
The RadioTimes.com poll saw more than 14,000 people vote for their favourite Bond, with actors pitted against each other in different rounds of the survey.
The first round saw Connery beat Craig after securing 56 per cent of the vote. Brosnan beat George Lazenby in the other heat with 76 per cent of the vote. Moore also lost out to Timothy Dalton after scoring just 41 per cent of the vote.
The final therefore saw Connery pitted against Dalton and Brosnan, with the actors securing 44 per cent, 32 per cent and 23 per cent respectively.
And looking at the weather…
Today
Sharp showers in western England and Wales could turn thundery, reports BBC Weather. Sunny spells are expected elsewhere and it will remain hot in the south-east of England.
Tonight
Today's thundery showers could move into central and northern regions overnight. Another muggy night in the southeast.
Tuesday
The sharp showers continue northwards and there's a chance of an odd heavy shower in the south. It will continue very warm in the southeast.