Here's your news, business and motoring round-up for Wednesday, August 5
Schools 'must come before pubs and shops' in lockdown planning
Schools must be prioritised over pubs and shops in planning for future coronavirus lockdowns, the Children's Commissioner for England has warned.
Anne Longfield said children were too often 'an afterthought' during the first lockdown and argued that if any local or national lockdown takes place, schools should be the last places to be locked down, after pubs, restaurants and non-essential shops.

It comes after a new modelling study implied that reopening schools in September must be combined with a high-coverage test-trace-isolate strategy to avoid a second wave of Covid-19 later this year.
Ford names new boss 
Ford chief operating officer Jim Farley will lead the carmaker into the future starting on October 1 when current chief executive Jim Hackett retires.
The company is in the midst of an 11bn US dollars restructuring plan designed to make it leaner and crank out new vehicles to replace what was an ageing model lineup.

As chief operating officer, Farley, 58, led the company's global markets and product development. Read more
Dozens die in Beirut explosion 
Boris Johnson has confirmed that British nationals were among those caught up in the aftermath of a huge blast in Beirut that killed at least 70 people and wounded thousands.
The Lebanese capital was waking today (Wed) to a scene of devastation after the massive explosion at the city's port.
Smoke was still rising from the port, where a towering grain silo was shattered. Major downtown streets were littered with debris and damaged vehicles, and building facades were blown out.
Authorities say at least 70 people were killed and 3,000 wounded, with the toll likely to rise as more bodies were pulled from the rubble. It is still unclear what caused the blast, but it appears to have been triggered by a fire near a storage facility housing volatile chemicals.
Big firms cut nearly 4,500 jobs in just two days as furlough tapers off
Nearly 4,500 jobs have been lost at major British employers in only the first two working days in August, new figures reveal.
Dixons Carphone, Pizza Express, Hays Travel and DW Sports have all announced major redundancies, or plans that could put hundreds of jobs at risk.
More than 26,000 jobs were lost at British employers in July, according to analysis by the PA news agency. It was a small decrease from June when almost 30,000 jobs were lost at British employers when stripping out the effects of BP and HSBC, whose combined 45,000 jobs losses announced in July will be spread around the world. In May, around 36,000 job losses were announced.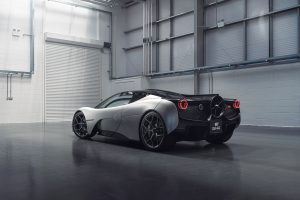 British V12 supercar, the GMA T.50, revealed
A new British-built supercar from the company started by legendary car designer Gordon Murray has finally broken cover.
The Gordon Murray Automotive (GMA) T.50 uses a bespoke 3.9-litre Cosworth V12 engine (the lightest V12 ever made) that makes 654bhp and revs to an incredible 12,100rpm, while the car itself weighs just 986kg. However, the unique selling point is the 400mm rear-mounted fan, which rapidly accelerates air passing under the car and creates 'ground effects'.
Murray, 74, said: 'Next-level aerodynamics allow us to avoid the current supercar trend for exaggerated wings, vents and ducts. I was determined to create a clean and pure shape that would remain timeless, ensuring the T.50 will still look fresh in 30 years.' Deliveries begin in January 2022 and each car will cost £2.36m.
Virgin Atlantic could run out of money
Virgin Atlantic could run out of money by the end of September if creditors do not approve a £1.2bn bailout package, a court has heard.
Without a restructuring and injection of new cash, it is projected that the airline's cash flow would drop to 'critical levels' by the middle of next month and it will 'run out of money altogether' by the week beginning September 28.
The airline unveiled a restructuring plan to secure its future, involving only private funds, last month, which needs to secure approval from creditors under a court-sanction process. In a connected move later on Tuesday (Aug 5), Virgin Atlantic filed for protection in a US federal bankruptcy court in New York.
Amazon gets thumbs up to buy stake in Deliveroo
The UK's competition watchdog has cleared the way for Amazon to take a stake in food delivery company Deliveroo after finding it would not deal a major blow to competition in the sector.
The Competition and Markets Authority (CMA) said that it would allow the American online giant to push ahead with plans to buy 16 per cent of the British business after a months-long investigation.
But officials warned that any attempt by the technology company to buy more of Deliveroo could spark a second probe.
FTSE 100 edges into green after BP buoys sentiment
The FTSE 100 tipped into positive territory at the close of play after it was buoyed by a strong showing by BP.
Investors welcomed the oil giant's decision to cut its dividend as it helped to offset a disappointing set of figures for fellow multinational Diageo and bring the index into the green.
London's top flight closed 3.15 points higher at 6,036 points at the end of trading on Tuesday.
And looking at the weather…
Today
Largely dry in southwest England today, reports BBC Weather, but showery rain with some heavy bursts will affect western areas in the afternoon. Gusty winds for many but warm temperatures.
Tonight
Clear spells for most after earlier showers have cleared. Patches of fog or mist will form across the country with drizzle possible and some patchy rain in the south later.
Thursday
A very warm day with southerly winds. Dry with sunny spells for the north but cloudier and the potential for rain in some southern areas.
Car Dealer Live today – join us at 9AM for LIVE new car registrations and July dealer profitability data. Watch it HERE