Here's your news, business and motoring round-up for Thursday, August 6
Lockdown restrictions reimposed in Aberdeen
Bars, cafes and restaurants have been ordered to close as lockdown restrictions are reimposed in Aberdeen due to 54 new cases of coronavirus.
A five-mile travel rule has been put in place and residents are being told not to enter each other's houses. All indoor and outdoor hospitality venues were told to close by 5pm on Wednesday (Aug 5)

The measures, which apply to the Aberdeen City area, will be backed by government regulations, the First Minister said, and will be enforced if the rules are not followed.
Weekend car use has returned to pre-pandemic levels 
The number of cars on Britain's roads compared with equivalent days in early February was 97 per cent on Saturday and 100 per cent on Sunday, according to Department for Transport (DfT) data.
Car use on Monday – the latest day for which data is available – was at 88 per cent, partly due to many people continuing to work from home. Passenger numbers on buses outside London were at 37 per cent of pre-pandemic levels on Monday, while the latest confirmed figures for train use show it is at 28 per cent.

Cycling is the mode of transport that has seen the biggest increase, at 126 per cent of what it was before the crisis began. AA president Edmund King told the PA news agency there has been 'almost a complete reversal in car traffic trends since early lockdown'.
Test and Trace figures to be published amid calls for it to improve
The latest data on England's contact tracing system will be published today amid concerns about the effectiveness of the operation.
Experts have warned that the NHS Test and Trace system must rapidly improve to cope with the pressures expected once schools fully return in September and as winter approaches.
Last week's figures showed the system – which Boris Johnson said would be 'world beating' – was unable to reach a quarter of the contacts provided by infected people.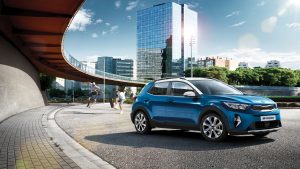 Kia lightly updates Stonic
Kia has announced a range of upgrades to the Stonic crossover, with the key update being the introduction of a mild-hybrid powertrain.
The electrified engine brings improved efficiency and lower emissions. Badged EcoDynamics+, the 1.0-litre petrol engine also comes with a new manual transmission as well as the existing seven-speed automatic. It's available in two states of tune – 99bhp and 118bhp.
Aside from the mild-hybrid engines, the standard petrol units have also been updated and kit levels have been boosted. An eight-inch touchscreen now comes as standard, there are LED headlights, new colours and new alloy wheel designs. The updated Stonic will arrive in the UK later in the year.
Survivors mark 75th anniversary of Hiroshima bombing
Survivors and relatives of the world's first atomic bombing in Hiroshima have marked the 75th anniversary of the slaughter.
The US dropped its first atomic bomb on Hiroshima on August 6 1945, destroying the city and killing 140,000 people, mostly civilians and including many children.
Thursday's peace ceremony at the Hiroshima Peace Memorial Park was scaled down, with the number of attendants reduced to fewer than 1,000, or one-tenth of past years, because of the coronavirus pandemic.
Surge in city dwellers inquiring about homes in villages
Home buyers currently living in major cities are planning their escape to the country, according to Rightmove.
Across June and July, the number of buyer inquiries from people living in 10 major cities increased by 78 per cent overall compared with the same period last year as the market picked up.
For example, the number of inquiries from Liverpool residents looking for a village lifestyle has almost tripled (275 per cent) compared with a year earlier, while there has been a 63 per cent increase in inquiries about towns.
Holidaymakers ditch flying and turn to car rental
The car rental market is seeing a post-pandemic resurgence as holidaymakers ditch flying in favour of driving to their holiday destinations.
Vehicle rental trade body the BVRLA has seen a rise in demand from leisure and tourism customers, after seeing rentals drop 'off a cliff' at the outbreak of the pandemic.
The body says that evidence suggests holidaymakers are preferring to rent vehicles to take abroad instead of risking travelling with others on a plane. During July, demand for the VE103B certificate that allows drivers to take rented or leased vehicles abroad surged, while the number of people visiting the Taking a Vehicle Abroad page of its website increased by 79 per cent.
Plea to beachgoers as UK braced for potential heatwave
The RNLI has urged families heading to the beach this week to be aware of potential dangers as the UK braces itself for a potential heatwave.
The Met Office says that the warmer weather, starting on Thursday, could reach a blistering 37C (98.6F) in some areas and is expected to last until Sunday.
Last week on July 31, the UK recorded the hottest day of the year and the third warmest on record, with the mercury rising to 37.8C (100.04F) at Heathrow Airport. The Coastguard reported its busiest day for more than four years as it dealt with more than 300 incidents.
…and looking at the weather…
Today
A warm day with southerly winds, reports BBC Weather. Sunny spells but patch rain is possible for south-western areas of England.
Tonight
A largely night with clear spells, especially in the south-east with some patchy mist, while the north and west will see a lot of low cloud.
Friday
A hot day with sunshine, particularly in the southeast, although slightly cloudier with a few showers in the west. Rain will sweep across the north later.
Yesterday on Car Dealer Live – July new car market analysed with ASE Global's Mike Jones