Here's your news, business and motoring round-up for Friday, August 7
Belgium, Bahamas and Andorra added to quarantine list
People arriving into the UK from Belgium, the Bahamas and Andorra will have to quarantine for 14 days, the government has said.
The Foreign Office is warning against 'all but essential' travel to the countries and they follow Spain and Luxembourg in having quarantine restrictions imposed.

Transport secretary Grant Shapps said the changes start at 04:00 BST on Saturday – but not in Wales where it started midnight on Thursday.
Update expected on local lockdown restrictions
The government is expected to make an announcement today on the status of the local lockdown measures in the north west of England and Leicester.
Measures banning mixing between households were due for review yesterday, a week after they were brought in for residents in Greater Manchester, parts of east Lancashire and West Yorkshire, as well as Leicester.

Local leaders in Preston warned it could become the latest area to face a government intervention. The rolling seven-day rate of new cases of Covid-19 in Preston has risen from 20.3 cases per 100,000 people in the seven days to July 27 to 32.8 in the seven days to August 3. A total of 47 new cases have been recorded.
Business rates appeals surge by 690 per cent
Business rates appeals have surged by 690 per cent over the past quarter as property owners claimed values were hammered in the face of the coronavirus pandemic, according to new figures.
Government data released by the Valuation Office Agency of HMRC revealed that 144,910 shops, pubs, restaurants, offices, factories and public sector buildings launched appeals in the three months to June.
Industry experts have said the increase was driven by concerns that property valuations are not accurate, after the lockdown caused a sharp fall in footfall for retail and hospitality firms. However, firms will not have to pay business rates for the current financial year, after the chancellor wiped the tax for all companies for the period as part of his economic support package.
Eurotunnel sees demand return quicker than airlines
Demand for car-carrying Channel Tunnel trains is returning to pre-coronavirus pandemic levels quicker than air travel, new figures show.
Some 233,172 passenger vehicles were carried on Eurotunnel Le Shuttle services in July –  down just 21 per cent down on July 2019, whereas the UK's biggest airlines easyJet, Ryanair and British Airways operated less than half their capacities last month.
Getlink, which operates the trains, said it received 'very high reservation levels' after the government announced that from July 10 it would lift the quarantine requirement for people returning to or arriving in England from France and certain other countries. Its July traffic peaked on the last day of the month, when 12,239 vehicles used the service.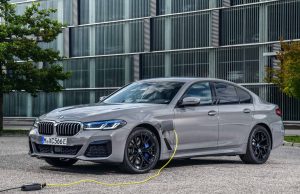 BMW reveals new plug-in 5 Series
BMW has revealed its fastest ever plug-in hybrid.
The new 545e takes over the title of hottest BMW PHEV after the recent demise of the i8 supercar, and uses the same engine and electric motor combo from the 745e and X5 plug-in hybrid. That's a 3.0-litre straight-six petrol engine mated to a 108bhp electric motor to give 289bhp.
It has electric range of between 28 and 33 miles and can get from zero to 60mph in 4.5 seconds.
India surpasses two million coronavirus cases
India has hit two million coronavirus cases authorities have announced.
The country has the third-highest caseload in the world after the United States and Brazil, but its fatality rate of about two per cent is far lower than the other hardest-hit countries. The health ministry said 62,585 cases were reported in the past 24 hours on Friday, raising the nation's total to 2,027,074. The number of deaths with those suffering from Covid-19 stood at 41,585.
The rate in the US is 3.3 per cent and 3.4 per cent in Brazil, Johns Hopkins University figures showed.
Ryanair could be banned from Italy
Italy's civil aviation regulator ENAC is threatening to ban Ryanair from the country's airports over alleged non-compliance with rules introduced to tackle the coronavirus pandemic.
ENAC accused the Dublin-based airline of 'repeated violation of anti-Covid-19 health measures drafted by the Italian government and in force to protect passengers' health'.
Airlines operating in Italy are not required to ensure social distancing of one metre if other safety steps such as mandatory wearing of face masks are taken, but ENAC claimed Ryanair is failing to meet these requirements. If Ryanair – which serves 29 airports in Italy – continues to 'violate' rules it could prevent Ryanair from flying to or from the country.
Worries over extended post-virus economic recovery weigh down FTSE
The Bank of England's warning that the UK economy's post-virus recovery is to take longer than previously predicted – as reported by Car Dealer – dealt a fresh blow to the FTSE 100.
It closed in the red after the central bank said UK GDP is only set to reach pre-crisis levels by the end of 2021, as traders baulked at the prospect of a drawn-out recovery.
London's top flight closed 77.78 points lower at 6,026.794 points at the end of trading on Thursday.
And looking at the weather…
Today
Dry with sunny spells for much of England and Wales, reports BBC Weather, and hot in the south and east. Cloudier in Scotland and Northern Ireland with showers in the west.
Tonight
Showers will diminish in Scotland during the night and a cooler night in Northern Ireland. Dry in the south and muggy.
Saturday
Plenty of sunshine and dry weather for most and some patchy cloud. Slightly cooler than Friday.
Today on Car Dealer Live – owner of Lister Motor Company, Lawrence Whittaker, live at midday