Hendy customers can now support good causes digitally when they make a purchase.
The dealer group has teamed up with fintech charity Pennies and its micro-donation movement to offer the option of topping up card purchases by 50p to make a donation to Hendy Foundation.
The money will go to good causes in the Hendy region, which stretches across the south and south-west of England from Devon to Kent.

Chief executive Paul Hendy said: 'Hendy Foundation was set up in 2019 to formalise the support Hendy has given to the community in its 162-year history, and it has already helped a wide range of projects in the area.
'By offering our customers the opportunity to make a small donation with Pennies, they can enable the foundation to support even more local causes in their own community.
'Initial feedback from our customers has been extremely positive and they are really keen to help the foundation support their local communities.'
He added that since all payments were now made by card rather than cash, it made sense to add a digital element to fundraising.

'In the past, retailers such as Hendy would have had collection tins in showrooms, but as with all parts of our business digital is the way forward and Pennies is an award winning fintech charity with expertise in the field of digital donations.'
Hendy trustee Mark Busby, pictured, said: 'As a charity we are delighted that Hendy Group and its customers have partnered with Pennies to help the foundation continue to make a positive impact on the local communities where its customers live.'
Alison Hutchinson, chief executive of Pennies, said: 'We're delighted to welcome Hendy Group to the Pennies family. We are sure that Hendy Group's customers will quickly adopt this simple way of giving and support the growth of micro-donations – at a time when they matter now more than ever.'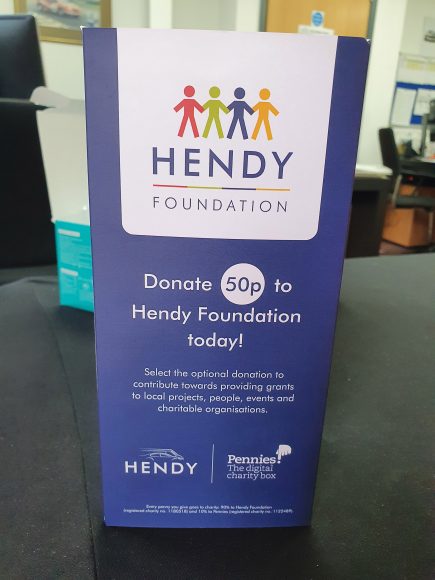 Hendy to open new 'state-of-the-art' Transit Centre and new MG Motors dealership