Here's your business, motoring and news round-up for Sunday, July 26
Coronavirus cases top 16 million globally
The number of confirmed coronavirus cases worldwide has topped 16 million.
According to Johns Hopkins University, the US leads the count with 4.1 million, followed by 2.3 million in Brazil and 1.3 million in India.

The US also has the highest number of deaths with 146,460, followed by 86,449 in Brazil and 45,823 in the UK.
Motorway roadworks speed limit rethink
Speed limits past motorway roadworks will be increased to cut journey times and ease drivers' frustrations.
Highways England announced that the typical 50mph restriction where work is being carried out will rise to 60mph.

The government-owned company responsible for motorways and major A-roads in England made the decision after carrying out trials over the past 18 months that showed the safety of motorists and road workers could be maintained despite the 10mph increase.
However, limits won't be immediately increased at every set of roadworks.
Bugatti begins Baby II production
Bugatti has started production of its scaled-down Baby II.
The reimagining of the original Baby created by Ettore Bugatti for his youngest son Roland is limited to just 500 units worldwide.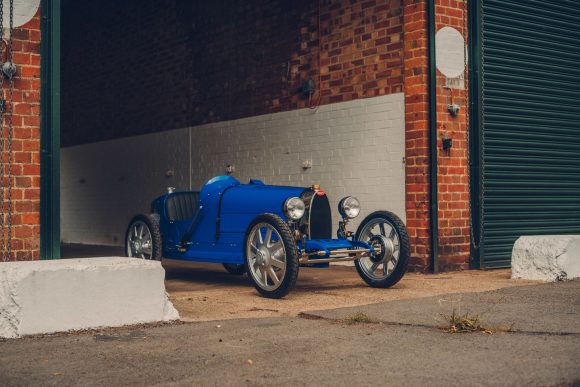 Base models use a composite body powered by a 1.4kWh battery pack, while Vitesse models receive a carbon-fibre body and a 2.8kWh battery pack along with a special 'Speed Key' like the much larger Chiron. Meanwhile a Pur Sang edition aimed at collectors uses the same powertrain as the Vitesse but has a hand-formed aluminium body taking 200 hours of craftsmanship to make.
Julie Walters among parents urging green focus on economic recovery plans
Julie Walters is among a group of more than 100 high-profile parents calling for a green economic recovery following the coronavirus pandemic.
The Harry Potter actress, 70, signed an open letter to the prime minister demanding a low-carbon recovery of the economy, alongside author Michael Morpurgo and presenter Lorraine Kelly.
Co-ordinated by parent groups Mothers Rise Up and Parents For Future UK, the letter urges Boris Johnson not to 'build our way out of one disaster by supercharging the next' in response to Covid-19,
Printer ink pricier than 32-year-old Scotch
Despite being more expensive than 32-year-old Scotch whisky, Chanel No 5 and high-end champagne, most people buy branded ink for their printer rather than cheaper third-party alternatives even though they are just as good, according to new Which? research.
The consumer champion found that just one set of replacement cartridges for the Epson Expression Premium XP-900 costs £96. This means that a customer replacing their ink five times can expect to pay £480, yet a third-party alternative deemed of similar quality was found to cost just £70 for five replacement sets – a saving of up to £410.
At £2.04 a millilitre, the Epson printer ink was one of several branded versions found to be more expensive than 32-year-old Scotch whisky (£1.71), Chanel No 5 (£1.13) and premium champagne (30p).
Anne: I wouldn't go anywhere near Twitter
The Princess Royal has revealed her views about one of social media's most popular platforms Twitter, saying 'I wouldn't go anywhere near it if you paid me frankly.'
Anne's comments will be aired in a new ITV documentary on Wednesday (Jul 29) marking her 70th birthday on August 15. It also sheds light on her school years, with stories of the young princess breaking out with friends to buy fish and chips.
Cycling on prescription
Government-backed 12-week health plans are set to be rolled out as part of the prime minister's obesity strategy, with GPs able to hand out 'cycling prescriptions', it has been confirmed.
The move comes after Boris Johnson revealed his own brush with Covid-19, which saw him require intensive care in April, convinced him of the need to tackle Britain's bulging waistlines.
He is preparing to announce a 'Better Health campaign on Monday (Jul 27), which will aim to reach 35 million people in a bid to help them lose weight and live healthier lives.
Tributes paid to Fleetwood Mac co-founder
Mick Fleetwood and Stevie Nicks have led tributes following the death of Fleetwood Mac co-founder Peter Green at the age of 73.
Fleetwood and Green formed the influential group in London in 1967, alongside John McVie and Jeremy Spencer. Nicks signed with the band in 1975, five years after Green had quit amid struggles with his mental health.
After his death was announced on Saturday, tributes poured in from across the music industry, with the musician lauded as among the greats of the British blues scene. Fleetwood described Green as 'my dearest friend' and said they 'trailblazed one hell of a musical road for so many to enjoy.' Meanwhile, Nicks said: 'His legacy will live on forever in the history books of rock 'n' roll.'
And a look at the weather…
Today
It'll be breezy across the UK with sunny spells and scattered showers, the north and west seeing the most frequent and heaviest. There'll be lengthier dry spells in eastern areas.
Monday
Heavy rain in the north and west of England, southern Scotland, Wales and Northern Ireland, clearing later in the eastern region. Parts of south-east England and northern Scotland will see showers.
On Friday's Car Dealer Live – Independent Motor Dealers Association's Umesh Samani