PM promises to splash the cash to rebuild
Prime minister Boris Johnson will splash the cash to help the economy recover from the coronavirus crisis.
Admitting that a large number of jobs that existed before the pandemic no longer exist he announced a spending spree and a new 'opportunity guarantee' yesterday.

Promising not to return to austerity that followed the financial crisis he said he would 'build, build, build' his way out of the crisis and slash 'newt-counting' red tape in the planning system to speed up delivery of infrastructure projects and homes. Read more here.
UK economy on course for V-shaped recovery
Britain's economy is on track for a sharp V-shaped recovery thanks to a faster-than-expected rebound but 'considerable' risks remain, according to the Bank of England's chief economist.
Andy Haldane, who also sits on the Bank's interest rate-setting committee, said the recovery in the UK and globally had come 'sooner and faster' than expected.

In a webinar speech yesterday, Haldane said the UK economy was benefiting from a rebound in consumer spending since lockdown restrictions have begun to ease. Read more here.
Local lockdown firms can re-furlough staff
Employers will be allowed to re-furlough staff if they are subject to a local lockdown like Leicester, it has been confirmed.
Non-essential businesses in Leicester were told to shut their doors again yesterday under the UK's first local lockdown and those firms affected will now be able to place staff back on furlough if they were previously on the scheme.
The prime minister's official spokesman said: 'If employers have used the furlough scheme at any point between March 1 and June 30, which of course many will have, they can re-furlough those employees from July 1.' Read more here.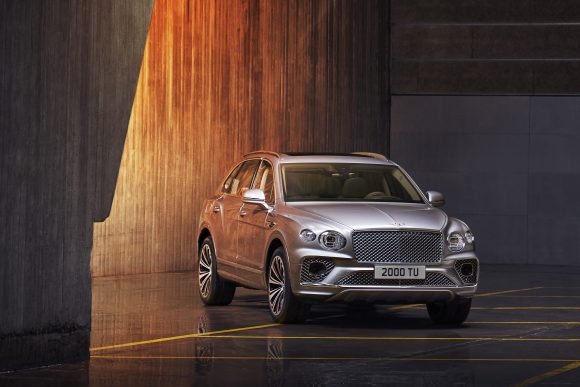 Bentley's track and trace system spots coronavirus
Bentley has relied on its own coronavirus track and trace system to uncover four asymptomatic staff members before the virus could be allowed to spread any further through its facilities. 
Speaking ahead of the launch of the new Bentayga SUV (above) yesterday, Bentley CEO Adrian Hallmark explained that the firm's factories had completely shut down at the start of the pandemic.
He said that staff have returned in reduced numbers to aid with social distancing – and that its own track and trace system was implemented to help finding members of staff with asymptomatic coronavirus. Read more here.
EV 'wave is coming' says Citroen boss
A wave of electric vehicle demand is coming believes Citroen's executive vice president.
Vincent Cobee spoke during the reveal of Citroen's latest C4 – and electric e-C4 – yesterday citing that as policies and governments change throughout Europe, so will the attitude towards EVs as viable modes of transport.
He said: 'The wave is coming. Just look at government policies and the recent elections across Europe – the writing is on the wall. There's growing demand around the world for clean mobility.'
Airbus to cut 1,700 jobs 
Aerospace giant Airbus is planning to cut 1,700 jobs in the UK as a result of the coronavirus crisis, the company has announced.
The news is a huge blow to its site at Broughton in north Wales, where wings are manufactured, and its other factory at Filton in Bristol. The company is cutting 15,000 jobs across its global operations.
A company statement said: 'Airbus has announced plans to adapt its global workforce and resize its commercial aircraft activity in response to the Covid-19 crisis.'
'Unprecedented' support for borrowers during lockdown
Borrowers have been offered 'unprecedented' support by the banking and finance industry during the coronavirus lockdown, with millions of people taking up payment holidays and interest-free overdrafts.
Figures from June show 1.9m mortgage payment deferrals have been offered to customers, equalling one-in-six mortgages in the UK.
Members of trade association UK Finance have also offered 27m interest-free overdrafts, provided 961,700 payment deferrals on credit cards and 688,900 payment deferrals on personal loans.
Bank transfer name-checking service tackles fraud
People making bank transfers will have more certainty their money is being sent to the right person, due to the widespread adoption by banks of a new name-checking service.
The move should make it harder for fraudsters to trick people into transferring money to them by pretending to be someone else.
The Payment Systems Regulator (PSR) said the 'confirmation of payee' service will give people the additional protection of checking the name of who they want to pay against the account number they are paying money into.
Shell reveals £18bn hit
Investors in oil giant Shell sent the FTSE 100 tumbling yesterday as the oil company announced plans to slash up to £18bn from the value it gives its assets.
Shell's management said that the oil in the ground it has the rights to extract may not be worth as much as previously estimated. The news sent both A and B shares in Shell – both of which are listed on the FTSE 100 – down by nearly four per cent.
At the end of the day, the FTSE had dropped 0.9 per cent, or a 56.03 point loss to 6,169.74.
600 jobs to go as shirtmaker TM Lewin closes all its shops
Around 600 workers will lose their jobs at TM Lewin as the shirtmaker said it would close all of its shops after taking a major hit during the pandemic.
A firm hired to restructure the menswear company said it was switching all sales to the internet in a bid to save the brand, but would not be able to rescue its estate of 66 shops.
The news comes weeks after the 122-year-old Jermyn Street shirtmaker was bought by Stonebridge Private Equity through its subsidiary Torque Brands.
London Motor Show set to return in 2021
The London Motor Show has announced its return in 2021 with a three-day event in Battersea Park.
Following a run of annual shows between 2016 and 2019, the show has taken a year off in 2020, but will return next year between July 16 and 18.
The show will focus on technology, electric and hybrid vehicles and luxury brands, with classic cars and more affordable city cars also represented. It will mean the UK will have two motor shows to attend next year, with the rival British Motor Show planning to go ahead in Farnborough.
Yesterday's round-up: Leicester locked down; Defender Hard Top; European car sales drop; Markets fly high fall
Car Dealer Live midday today: Vanarama CEO Andy Alderson
Yesterday we chatted to used car experts Cap HPI – here's what their head of valuations said about the latest price rises on used cars