Here's your business, motoring and news round-up for Thursday, July 23
Mike Ashley hits out at business rates delay
Mike Ashley's Frasers Group has warned it will have to review the future of some of its stores in light of the government's decision to delay the revaluation of business rates.
The company said it looked on 'with anguish and bewilderment' after it was announced on Tuesday that the next valuation of the property tax will take place in 2023, and it will continue to pay 'outdated' business rates based on 2015 valuations for the next two years.

Car dealers, like all businesses, will continue to pay out of date business rates based on valuations from before coronavirus, as already reported by Car Dealer.
Ministers urged to end face coverings confusion
Confusion over whether customers will have to wear face coverings in takeaways and sandwich shops in England must be cleared up, opposition MPs have said.
Health Secretary Matt Hancock announced on July 14 that wearing a face covering in shops and supermarkets will be compulsory from Friday July 24, with anyone failing to comply facing a fine of up to £100.

But the new regulations will only be published on Thursday, less than 24 hours before they come into effect, prompting the opposition to accuse ministers of 'making things up as they go along' over takeaways and sandwich shops.
London markets slip into the red amid US-China tensions
The FTSE 100 closed 62.63 points lower at 6,207.1p at the end of trading on Wednesday.
European traders were left shaken as concerns over the shutdown of the Chinese consulate in Texas hit stocks, with focus drifting away from still significant Covid-19 stresses.
David Madden, market analyst at CMC Markets UK, said: 'Rising tensions between the US and China dampened the mood in the markets.'
Fiat Chrysler and Iveco offices searched in emissions probe
Investigators have searched offices of car maker Fiat Chrysler and truck maker Iveco in Germany, Switzerland and Italy as part of an investigation into suspected illegal manipulation of diesel emissions.
Authorities in Germany are conducting an in-depth probe of suspected manipulation on 200,000 vehicles made by the two companies as well as their subsidiaries, according to a news release from Eurojust.
It again puts diesel into the spotlight and follows Mercedes, Nissan and Renault in recent months which have all been accused of using defeat devices. Read more.
PM hails 'sheer might' of union ahead of visit to Scotland
The 'sheer might' of the UK has been shown during the coronavirus pandemic, the prime minister has said ahead of a visit to Scotland.
Boris Johnson will meet with businesses hit by the pandemic, those working in green energy, and military personnel to thank them for their efforts in the response to coronavirus.
There are no plans to meet with first minister Nicola Sturgeon, who said at her regular coronavirus briefing on Wednesday that she would be willing to meet with the prime minister.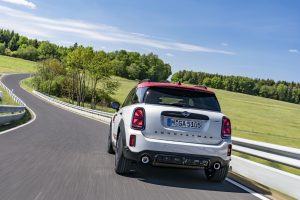 Mini reveals tweaked Countryman JCW
Mini has revealed the updated Countryman John Cooper Works which benefits from a raft of styling and tech upgrades.
On the outside, updates include a redesigned front grille, two new metallic colours and LED lights all round with Union Jack designed ones at the back. Meanwhile, on the inside, the JCW gets the five-inch digital instrument display first introduced on the Mini Electric.
The engine remains the same 302bhp 2.0-litre turbo petrol and prices start from £36,000.
Government urged to promote extension of summer holiday season
MPs are urging the government to do more to promote an extension of the UK's summer holiday season to boost the struggling tourism industry.
A report by the commons' digital, culture, media and sport committee stated that reducing the seasonality of the tourism sector is vital both this year and in 2021.
This is because many businesses will need to earn as much money as possible in the coming months to survive, and a number of bookings have been deferred until next year.
BA pilots urged to accept package to try and limit redundancies
British Airways pilots are being urged to accept a package including pay cuts and job losses in a bid to avoid more redundancies.
The British Airline Pilots Association (Balpa) said the package, negotiated after nearly three months of negotiations, would protect jobs.
The proposed deal includes voluntary part-time working, voluntary severance, voluntary external secondments, and a holding pool of the equivalent of 300 pilots employed on reduced pay ready to return to flying as demand picks up. The measures will be funded by pilot pay cuts starting at 20 per cent and reducing to eight per cent over the next two years.
And turning to the weather…
Today
Mostly cloudy today with outbreaks of rain for many areas, although the southeast should stay dry, bright and warm, reports BBC Weather. Sunny spells and a few showers later in Scotland and Northern Ireland.
Tonight
Parts of Scotland and northern England will have some clear spells overnight, but there will be extensive cloud across northern Scotland and southeast England, bringing a few patches of rain.
Friday
Tomorrow will be a drier day with sunny spells, variable cloud and perhaps the odd light shower for England and Wales. Rain will spread into Northern Ireland later in the day.
Yesterday on Car Dealer Live – Waylands Automotive CEO, John O'Hanlon