Here's your business, motoring and news round-up for Friday, July 24
Face coverings mandatory in England but some stores say they will not challenge customers
The wearing of face coverings in retail spaces in England comes into law today but some high street chains said they will not penalise customers who fail to do so.
Police can hand out £100 fines to people in shops, shopping centres, banks, takeaway outlets, post offices, sandwich shops and supermarkets who flout the rules, but the College of Policing has said officers 'should only be required as a last resort'.

Costa Coffee said it would 'not be challenging customers', Sainsbury's said 'our colleagues will not be responsible for enforcing them', Tesco will be selling face coverings at the entrance and Waitrose said staff would be at the entrance to stores reminding customers of the requirement.
Are dealerships affected by the new guidance? Will customers and dealerships staff have to wear face coverings today? We explain in our guide – click here
Crossrail opening delayed further due to coronavirus pandemic
The heavily delayed Crossrail will not open as planned in summer 2021 because of delays caused by coronavirus, its board has said.

The troubled railway, from Berkshire to Essex via central London, was originally expected to open in December 2018 but repeated delays have pushed it back.
On Thursday (Jul 23) evening, Crossrail said: 'Due to a pause of physical activity on sites and significant constraints on ongoing work – time has been lost, only some of which can be recovered. The opening of the central section between Paddington and Abbey Wood next summer, as announced earlier this year prior to Covid-19, is not achievable.'
Dyson to shed 900 jobs worldwide
Vacuum cleaner giant Dyson is axing 900 jobs as it speeds up restructuring plans as a result of the Covid-19 crisis.
Around 600 jobs will be lost in the UK and 300 in the rest of the world. The firm employs 14,000 people globally, of which more than 4,000 are in the UK.
The company said impacted staff are in retail and customer service roles, adding it was working to redeploy people to alternative jobs where possible.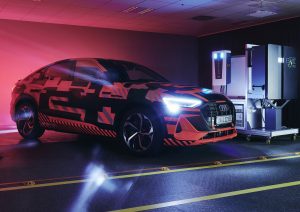 Audi EVs to put electric back into grid
Audi has started work on bi-directional charging which would allow EVs to give energy back to the grid.
The system allows electricity kept in home stores to power EVs, but would also mean that electric vehicles could give energy back.
Developed in partnership with Hager Group, the technology could be particularly beneficial – according to Audi – to those users with solar panels as excess electricity could be stored temporarily and then used when required.
Manufacturing orders in fastest plunge for almost 40 years
UK manufacturers saw order volumes for the past three months tumble at the fastest pace for almost 40 years, according to new figures.
The latest CBI quarterly Industrial Trends Survey shows volumes declined by 59 per cent in the most recent quarter as orders plunged 60 per cent.
The survey of 356 manufacturing firms shows domestic orders and export orders declined at record paces.
One week to go until tax credits renewal deadline
People who receive tax credits have just one week left to tell HM Revenue & Customs (HMRC) about changes to their circumstances or income.
Customers whose circumstances have changed in the past year or who have received a letter to reconfirm their income details need to contact HMRC before the deadline of July 31.
Failing to respond by that date may mean people receive incorrect tax credits payments and may end up having to pay back any overpayments.
FTSE 100 edges into red on Thursday
The FTSE 100 nudged marginally higher on a quiet trading day as concerns over US-China tensions pressed down on global markets.
London's top flight closed 4.34 points higher at 6,211.44p on Thursday, with the trading being described as 'subdued'.
David Madden, market analyst at CMC Markets UK, said: 'The strained relationship between the US and China has been an issue lately and now the situation is a little worse.'
And turning to the weather…
Today
Drier today with warm sunny intervals and variable amounts of cloud, reports BBC News. There will be one or two light showers around though, and rain will arrive into Northern Ireland and westernmost Britain later.
Tonight
Rain will push eastwards into western parts of Britain this evening, and further east across remaining areas overnight. Some heavy bursts of rain are likely, with a few rumbles of thunder. Mild temperatures are expected
Weekend
Unsettled and breezy tomorrow with rain clearing most parts to give sunny intervals and heavy, thundery showers. However, rain will persist in parts of southern England, as well as the Northern Isles. Blustery winds on Sunday, with sunny spells and scattered showers. Showers will be mainly in the north and west, with longer spells of rain in the far north.
On Car Dealer Live at 12pm – Umesh Samani, chairman of the Independent Motor Dealers Association
Earlier this week on Car Dealer Live – John O'Hanlon, Waylands Automotive CEO