Here's your business, motoring and news round-up for Thursday, July 30
Car production sinks to lowest figure since 1954
Car production in the UK slumped over the past six months to the lowest it's been since 1954 – the year that food rationing ended – according to new figures out today.
There was a 42.8 per cent drop to 381,357 cars from January to June against the same period last year, said the Society of Motor Manufacturers and Traders.

Car production in June dropped by nearly half – 48.2 per cent – compared with June 2019, with 56,594 units made, as social distancing measures and weak global demand continued restricting output. Read more
Self-isolation to be extended to 10 days
People with coronavirus symptoms will have to self-isolate for 10 days rather than seven, according to reports.
The Times and Telegraph reported the deputy chief medical officer for England, professor Jonathan Van-Tam, is expected to announce the change in advice, and comes amid health leaders' fears of a 'second spike' and an ongoing row over 14-day quarantine measures put in place for travellers returning from Spain.

Advice for those who have been in close contact with someone with the virus or who are contacted by NHS Test and Trace is expected to remain unchanged at 14 days quarantine.
Global markets flatline ahead of Fed interest rate decision
Global markets were broadly flat as traders sat in anticipation of the latest interest rate decision from the US Federal Reserve.
The FTSE 100 closed 2.2 points higher at 6,131.46p at the end of trading on Wednesday.
The Dow Jones nudged higher as it benefited slightly from the continued retreat of the dollar, which hit a two-year low. The German Dax decreased by 0.03 per cent, while the French Cac moved 0.71 per cent lower. The pound rose 0.34 per cent versus the US dollar at 1.297 and was down 0.14 per cent against the euro at 1.102.
Aldi to create 1,200 more jobs and open more stores
Aldi has said it will create 1,200 new jobs across the UK during the rest of this year.
The retailer has 35,000 UK staff and has already created 2,800 new permanent jobs this year after grocery sales surged in the face of the coronavirus pandemic.
The 1,200 new jobs will be created with the building of new stores, which Aldi intends to open an average of one new store each week between now and Christmas. The new store locations include Sandhurst, Bristol and Edinburgh.
Mini passes electric milestone
More than 11,000 Mini Electric models have been produced at the firm's plant in Oxford, having been fully integrated into the same production line as the combustion-engined Mini models.
David George, director of Mini UK, said: 'The UK already accounts for nearly a fifth of global Mini Electric and Mini Countryman Plug-In Hybrid sales and we know that demand is increasing.'
Mini predicts that next year, a third of Mini three-door models built in Oxford will be the electric version.
Mortgage lending bounced back in June after record low
Mortgage lending bounced back last month after hitting a record low in May.
Bank of England figures show mortgage approvals increased to 40,010 in June from 9,300 the previous month, when the pandemic strangled lending.
In February, before the virus hit the UK economy, the bank reported 73,700 monthly mortgage approvals.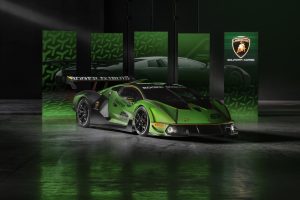 Lamborghini unveils limited-edition Essenza SCV12
Lamborghini has revealed its limited-edition, track-only SCV12.
Limited to just 40 units, the Essenza is a strict track-focused car and uses a 6.5-litre naturally-aspirated V12 with 819bhp. A dual-exit exhaust system features at the rear of the car and there's a huge front splitter and winglets which help to cool the engine.
Each Essenza SCV12 owner will become part of an 'exclusive club' which will give them special access to programs which will allow them to drive their car on circuits across the world. Purchase of a car will also include a storage service at a new hangar built at Lamborghini's Sant'Agata Bolognese headquarters.
Taylor Wimpey predicts 40 per cent drop in home completions
House builder Taylor Wimpey has said it expects to complete 40 per cent fewer homes in 2020, after plunging to a £40m loss for the first half of the year.
Taylor Wimpey closed its construction sites and sales offices amid the coronavirus pandemic in March.
It said the site closures weighed on home completions, which fell by 57.6 per cent to 2,771 properties for the half-year. The firm expects completions to be 40 per cent lower in 2020 as some expected for the end of the year will now be finished in the first quarter of 2021, which could also have an impact on completions in 2021.
Openreach commits to build ultrafast broadband network for millions
Around 3.2m homes and businesses in some of the UK's hardest-to-serve communities will benefit from ultrafast broadband.
Openreach said it was part of a £12bn investment programme aimed at delivering full fibre broadband to 20 million premises throughout the UK by the mid-to-late 2020s.
Openreach also published a list of 251 locations where it will build the new full fibre network over the next three years.
And looking at the weather…
Today
Outbreaks of rain and brisk winds move northwards across Scotland and Northern Ireland, reports BBC Weather. Most of England and Wales will be dry and warm with plenty of sunshine.
Tonight
Rain across northern Scotland will move away to the north to leave it dry with some clear spells later. The rest of the UK will be dry with long clear periods. Moderate south-easterly winds.
Friday
Much of the UK will be dry and very warm or hot with sunshine. However, showers will move into the far west later and the odd thunderstorm may break out for central and eastern England.
Yesterday on Car Dealer Live – DS Automobiles UK managing director, Alain Descat