Here's your motoring, business and news round-up for Thursday, June 25
Test and trace figures due today
The government is due to publish the latest data from its coronavirus NHS Test and Trace service as the prime minister continues to defend it from criticism.
The Department for Health and Social Care (DHSC) is expected to release figures for England today between June 11 and 17, its third week of operation.

It comes as the prime minister insisted the system is a 'cluster-busting operation' that would quickly tackle any localised Covid-19 outbreaks. Meanwhile, health secretary Matt Hancock refused to give a date on when the controversial test and trace app would be made available, but said the Government is 'going to make it work'.
Young drivers forced off the road
A fifth of young drivers have stopped using their car as the coronavirus pandemic has hit their finances, a new survey suggests.
Some 19 per cent of motorists aged 17-24 say they have been forced off the road because of the impact of the virus, comparethemarket.com found.

The survey of 2,091 UK adults also found 37 per cent of young people expect to be made redundant or take a pay cut due to the crisis, with a third needing to ask for financial assistance from family or friends to help with the cost of running a car.
Local business key to recovering from Covid-19 crisis
Nearly three-quarters of people believe that supporting their local economy and businesses will be key to recovering from the current crisis, a survey has found.
Some 73 per cent of 2,000 people surveyed by PayPal said supporting local firms will have an important role to play in emerging from the crisis. More than half said they had realised they wanted to buy more local and regional products to support businesses in their area in the future.
Many shopping habits formed during the lockdown will continue – with 85 per cent of people saying they will still shop online with small and medium retailers either as often as they do now or even more frequently, while nine in 10 plan to keep buying items at local stores they have discovered.
More redundancies for airline industry
More job redundancies have hit the airline industry with Swissport and Qantas now adding their names to the list of Covid-19-affected businesses.
Ground handling giant Swissport said up to 4,556 jobs could be cut – more than half its UK workforce. Swissport operates at airports across the UK, including Heathrow and Gatwick, which are among those badly hit by the crisis.
Meanwhile, Qantas plans to cut at least 6,000 jobs and keep 15,000 more workers on extended furloughs. The airline plans to be back to 40 per cent of its pre-crisis domestic flying by July, but international routes will take much longer to return.
US worries make markets nervous
Warnings from the US over coronavirus and its future trading relations with Europe were enough to scare investors and send markets tumbling on Wednesday.
The FTSE 100 closed down 196.43 points, or 3.1 per cent, at 6123.69.
It fell in line with other markets, with traders particularly concerned over a rise in Covid-19 infections in the US. The French Cac closed down 2.9 per cent and the German Dax down 3.3 per cent.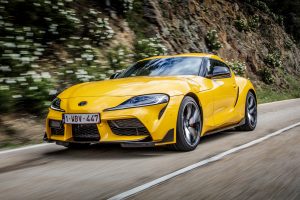 Toyota and Lexus launch scrappage scheme
Toyota and Lexus customers can now get up to £4,000 off the price of a new car through a new scrappage scheme.
To be eligible for the discount, buyers must trade in any passenger or commercial vehicle manufactured on or before September 30, 2012. They must have been the registered keeper for at least six months before placing the order for the new car, and both vehicles must be registered in the same name.
The saving varies depending on the model. For Toyota, the maximum £4,000 is applied to the Supra and Hilux, while this discount applies to the Lexus ES saloon, NX, and the five- and seven-seat RX SUVs. The smallest saving is found on the Toyota Yaris, which gets a £1,500 discount. Toyota says its previous scrappage schemes have resulted in 18,000 sales so far.
'Once-in-a-lifetime' green opportunity
The government must seize the 'once-in-a-lifetime opportunity' to deliver a pandemic recovery that speeds up the fight against climate change, its advisers have urged.
In its annual report to parliament, the Committee on Climate Change has warned the UK is not making the progress it needs to drive down emissions and prepare for the impacts of rising temperatures.
The report calls for rapid 'green stimulus' measures including upgrades to homes so they are more energy efficient, schemes to make it easier for people to cycle and walk, tree planting and bringing forward the date of banning the sale of petrol and diesel cars to 2032. Read more
Staycations boom
Britons are scrambling to book holidays, with record sales reported after lockdown restrictions on overnight stays were finally lifted.
Luxury lodge specialist Hoseasons recorded one booking every 11 seconds in the prime minister's announcement on Wednesday. Hoseasons' year-on-year sales were up 270 per cent by the end of the day, with sister company cottages.com reporting a 455 per cent increase as both brands smashed their previous record sales days.
The new guidance applies only to England, but self-catering holiday accommodation in Northern Ireland will open again tomorrow (June 26), and hotels will follow on July 3. A decision will be taken in Wales on July 9, with the Scottish Government reviewing its own lockdown restrictions on the same day.
Coming up this week on Car Dealer Live we have: 
Today: Peter Quinn, Emerald House of Cars
Friday: Sophus 3's Scott Gairns
Yesterday's round-up: Car industry calls for help; Pubs and cinemas to reopen; Nissan defeat devices claim
Yesterday's Car Dealer Live can be seen below