Workers at Nissan's Sunderland factory have finished making half a million protective aprons for front line health care workers.
A 57-strong team of staff volunteers at the plant have manufactured the aprons in just under three months. They have been supplied to more than 100 health care trusts and care homes across the north east region and will now hand over the project to HMP Northumberland.
Alan Johnson, vice president, manufacturing said: 'I'm extremely proud of the way the team at the plant answered the call to produce PPE for our front line workers.

'Producing more than half a million aprons in such a short period of time demonstrates the skill, ingenuity and dedication of our team at the plant.
With both production lines now back up and running at the plant, the team have shared their expertise and donated the equipment to a group of staff and 15 residents at the prison, based in Acklington, Northumberland.
Once up and running the prison team hope to initially produce 40,000 aprons each week.
Nissan began producing aprons in April this year following a request from the Royal College of Nursing and Unite for UK manufacturers to help with the unprecedented demand for PPE.

A team of staff volunteers took just eight days to design and build a process onsite to manufacture the plastic aprons.
The project was carried out in parallel to the plant's activity to help supply visors to the NHS.
As part of that, a team of volunteers have created a parts processing line to sort thousands of individual visor parts and pack them into sets of 125 for shipping direct to the NHS, with more than 370,000 units distributed.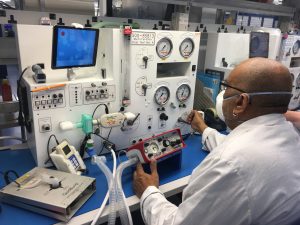 Meanwhile, further south, 15 workers from Vauxhall's Luton plant have completed a 16-week assignment at Smiths Medical, working as part of a consortium that delivered 13,437 ventilators for the NHS.
In April, 13 staff plus a team leader and supervisor, were chosen from Vauxhall's Kimpton Road Plant, which manufacturers the Vauxhall Vivaro van, to move to the Luton site of Smiths Medical.
Here they helped Smiths of meeting the 10-fold increase in ventilator production ordered by the prime minister, Boris Johnson.
Following a week of training, the team helped to assemble 20 to 30 life-saving ventilator units a week. Towards the end of the assignment, production rose to hundreds of ventilators a week.
During the assignment, the Vauxhall staff worked alongside engineers and specialists from a variety of sectors, including aerospace and mobile phone manufacturers. The staff also managed to raise £300 for charity during their placement.
'I'm immensely proud and not at all surprised that Vauxhall workers have volunteered and have been able to make such a valuable contribution during these difficult times,' said Stephen Norman, managing director, Vauxhall Motors.
'Our plant employees are used to working on lines where only consistent high quality is not just essential but primordial, and they have done a fantastic job over the past 16 weeks being part of the team making much needed ventilators to contribute to the NHS.
'During the last war Vauxhall manufactured Churchill tanks in Luton and here we see our front line contribution in what is widely seen as the most serious world crisis since that time.'
The Vauxhall staff will return to their normal jobs at Kimpton Road Plant, which has since resumed full production capacity, running all three shifts.