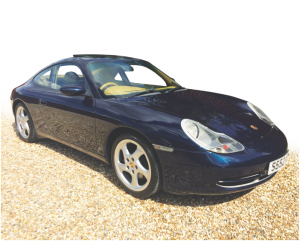 THE Porsche 996 model 911 was not exactly released to acclaim. So-called 'purists' were up in arms that it no longer had the air-cooled engine of its predecessor, and the front-end styling came in for criticism for not looking like a Porsche with the 'fried-egg' headlamps.
Despite modern convention believing it was the Boxster that saved Porsche, it was actually the 996. And, despite many looking at the 993 with misty eyes (and a large wallet these days), by 1996 it was simply too out-dated when pitted against rivals from Mercedes, BMW and Aston Martin.
(In fact, over a similar lifespan, the 996 actually sold double that of the 993.)

Early technical gremlins, such as failed IMS bearings, scored cylinder walls and leaking RMS trashing engines didn't help the 996 win favour with the Porsche old guard. However (and I speak as a Porschephile), the 996 did not deserve this reputation.
It was a better car in every way than the one it replaced and, while the IMS and cylinder stories are not without some foundation, having spoken to Hartech who know Porsches inside out, this is not as wide spread as trawling the internet would lead you to believe. It's actually relatively rare. So, when searching the web for stock, be it personal or for Trading Up, I always scan the Porsche ads.
That's how I came across this car, being sold by Ian at Moorelands in Basingstoke. Ian knows how to spot a good car, with some lovely stock including a fabulous 1974 Morgan. In fact, Ian acquired this around six months ago and has been enjoying it himself until, reluctantly, trading it on now as the bad weather sets in.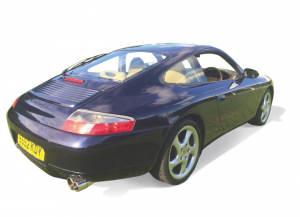 Now, I have owned many Porsche models and the 911 is without doubt my favourite car, but the only 996 I've owned was a very late facelift. I'd always found the early lights and somewhat bright colours on the inside a little much in comparison.

However, something about this car caught my eye. Initially, it was the price. At £8,000 it is certainly at the cheaper end of the spectrum. But reading further we discovered that this car has had over £5,000 spent on it in the past year on having the engine out, a new IMS bearing fitted and a few extra updates done. It may not be a guarantee of trouble-free motoring, but it's certainly a good sign.
Digging a little more, I discovered it was a very early car – quite possibly one of the earliest survivors, in fact.
The spec is strong with full electrics, heated seats a dim-dip mirror, air conditioning, cruise control and a tilt slide sunroof (so 90s!). Although she has covered a tad over 100k, she has had only three owners, who have clearly cherished her.
So how good is this car? Well, I bought it! A 911 with all the toys that a modern car should have,
a cabin in as-new condition and not a knock or squeak from anywhere – I would have been mad not to. I drove her home, and you know what, I think she drove better than ones I have bought that have cost five times as much.
The price might have helped but I've fallen for this car already and, like a lot of the Porsche snobs out there, I never thought I'd say that.
Andy Entwistle
MORE: Nissan appoints new UK sales director
MORE: New year has started well for dealers, says Motors.co.uk