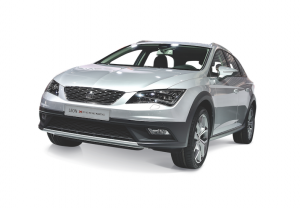 WITH off-roaders creeping into every corner of the market Seat has introduced its first 4×4 model in the Leon X-Perience.
This off-road estate follows in the tyre tracks of the VW Golf Attrack, adding four-wheel drive and a boost in ride height over the standard Leon.
The X-Perience is not the only off-roader on Seat's radar, however. Seat UK director Neil Williamson told us: 'In 2016 we'll have an SUV of Qashqai size – our first time in that market. Just that one car alone gives us access to 15 per cent more of the market. Who knows what might come beyond that?'

A new Ibiza is also in the pipeline, although no details have been released.
And Williamson revealed that not long after the Ibiza facelift a brand-new car will arrive.
He said: 'What I've seen of that car's early design work we are being quite adventurous. It's really quite impressive.'
One model that is soon to be killed off without a replacement, though, is the Altea people carrier. 'It's probably got another year or so in it. Then it will be phased out as X-Perience takes over. Then we go into SUV.'

The company is also updating its showrooms for the first time in 14 years. Williamson said: 'Some of our sites look a little bit old-fashioned. Neat and tidy, but old-fashioned. So we've got a look and feel which is like our motorshow – very white and red. Dealers are obviously nervous about the cost but we'll pay for signage and half the interior work.
'So, roughly speaking, it's about £40,000 per dealer.'
MORE: Volkswagen sets delivery record of five million for January to October
MORE: New Fabia aims to appeal across the generations
MORE: Video: Crafty car parker looks at things from a different angle