The UK's used car market declined by nearly 50 per cent in the second quarter of 2020 and by nearly 30 per cent in the first half of the year, latest figures from the Society of Motor Manufacturers and Traders (SMMT) reveal.
Quarter two was down 48.9 per cent with 1,039,303 used cars changing hands, and after a bumper January and February the effect of the coronavirus lockdown was felt hard in Q2.
Drilling down further into the figures the SMMT said the pace of decline eased as the quarter progressed, from a peak year-on-year loss of 74.2 per cent in April to 17.5 per cent in June.

However, the SMMT warned it's unclear how long it will take for the market to recover given 'economic uncertainties' and a 'need for greater activity in the new market to drive fresh stock'.
Derren Martin told Car Dealer earlier this month used car values will come under some pressure in the short to medium term.
He said (in the interview at the top of this story) higher unemployment and lower consumer confidence would both play their part in the immediate future, reflecting the economic impact of the pandemic, as would the higher volume of used cars coming back from previous years plus extensions that had been made to leasing and Motability cars that would be returning.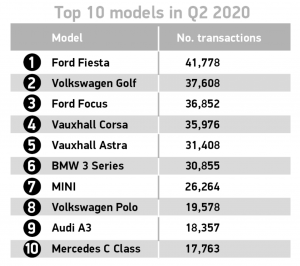 The SMMT figures showed demand for used electric cars, which grew by 44.8 per cent in the first quarter of 2020, declined in the second quarter, falling by 29.7 per cent to 2,288 units, although their market share remained stable at 0.2 per cent.

Sales of plug-in hybrids dropped 56.3 per cent, with just 3,249 changing hands. Meanwhile, petrol and diesel car transactions decreased by 49.2 per cent and 48.5 per cent respectively, although combined they still accounted for 98.3 per cent of sales in the quarter, equivalent to 1,021,963 units.
'As devastating as these figures are, they are not surprising'
The SMMT data backs up an earlier investigation by Car Dealer that showed sales of used electric, hybrid and plug-in hybrid had cooled off during lockdown, despite these cars remaining high on buyers' consideration lists.
In a recent survey, Auto Trader found that 77 per cent of people were interested in buying an electric and hybrid car, but price was still a big factor with some AFVs being twice as expensive as an equivalent petrol or diesel car.
'There's a big gap to bridge, essentially of price,' Auto Trader's commercial director, Ian Plummer, exclusively told Car Dealer earlier this month. 'We collectively need to find a way to change that dynamic. If you look at new cars where the price disparity usually is around 20 per cent between an EV and an ICE equivalent, on a used car, on our platform, the typical used price for an AFV is around double the price of an equivalent petrol or diesel.
'That's a heck of a step for someone, especially with the average price for an AFV being around £25,000.'
The SMMT data also found that despite a fall of 52.4 per cent, superminis remained the most popular used buy with 316,570 finding new owners in Q2, representing 30.5 per cent of the market.
All segments saw a decline with luxury saloons faring best with a slightly more modest 30.4 per cent decrease. Black remained the most popular colour choice with 227,660 units sold, closely followed by silver, blue, grey and white.
In the first six months of 2020, used car transactions were down by 28.7 per cent, with 2.89m used cars sold. The second quarter represented more than 85 per cent of the 1.16m lost sales so far this year.
The data isn't surprising, however, believes SMMT chief Mike Hawes.
'As devastating as these figures are, with full lockdown measures in place for the whole of April and May, they are not surprising,' he said.
'As the UK starts to get back on the move again and dealerships continue to re-open, we expect to see more activity return to the market, particularly as many people see cars as a safe and reliable way to travel during the pandemic.
'However, if we're to re-energise sales and the fleet renewal needed to drive environmental gains, support will be needed for the broader economy in order to bolster business and consumer confidence.'
Commenting on the SMMT data, Auto Trader's Ian Plummer said: 'Over the full year, we almost certainly won't make up for all the weeks of lost sales, however, from what we're observing on our marketplace and what we're being told by our customers, Q3 is tracking ahead of the same period last year and is likely to finish that way.'
AA Cars has seen a similar trend for consumers wanting to buy used city cars, but issued a note of caution.
'Sales started to rebound in June when dealerships re-opened, suggesting there was some pent-up demand during the lockdown,' said AA Cars CEO, James Fairclough.
'However, our research shows that three-quarters of drivers are unwilling to buy a car without seeing it in person, which may mean some people are putting off a purchase until they feel ready to visit a dealership.'
Echoing Mike Hawes' words, Adesa UK boss Jonathan Holland said the results weren't surprising but said there were still plenty of opportunities for dealers.
'Although the size of the full year market will be significantly reduced, there are still opportunities for dealers to close the year as strongly as possible by going online to source the optimum mix of models for their customer base as soon as vehicles become available on specialist digital remarketing platforms,' he said.
'Immediate access to desirable stock will be crucial over the coming months, especially with the major physical auction halls remaining closed to trade buyers.'
Quarter three won't just give opportunities but also strong growth potential, believes Close Brothers Motor Finance.
The firm's managing director, Seán Kemple, said: 'Looking to Q3 and beyond, the used car market is likely to see an even stronger surge in demand.
'New car sales may be stalled by slower socially-distanced production, leading to a shortfall of stock for dealers in the coming months. Faced with limited availability, long waiting times, and a potentially tighter budget, buyers are more likely to turn to used and second-hand cars instead. And with people still reticent to take public transport, private car ownership is becoming ever more appealing.
Dealers need to keep their fingers on the pulse and be prepared to adapt their stock and sales strategy to meet consumers' evolving needs.'