Marketing, PR & Video

Marketing Delivery is the leading eCRM and social media agency for the UK motor retail sector. Using data from the DMS, showroom and aftersales systems, Marketing Delivery creates and distributes personalised, carefully timed, mobile-optimised customer communications to improve conversion, satisfaction and retention.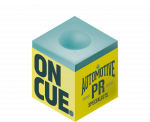 OnCue Communications is a leading provider of PR, video and events services to the automotive industry. Working for manufacturers, dealer groups and independents, the PR team has a proven track record of securing high-value, big-impact media coverage. The OnCue video team is a leader in the production of top-quality but affordable videos, including 4K and drone.