THE iPad edition of the latest issue of Car Dealer is now ready to be downloaded – free of charge!
Issue 118 is the annual Used Car Awards edition – and is packed with news from the black-tie ceremony that was held at The Brewery in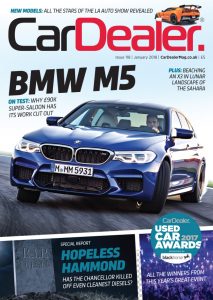 London at the end of November. Find out who the winners were in each category and read about those who took home well-deserved 'highly commended' certificates too.
As ever, it was a fantastic night, with many guests describing the 2017 event as the best yet!

Elsewhere in the bumper 124-page edition, we have a special report on the anger and frustration caused by chancellor Philip Hammond in his recent Autumn Budget speech.
As James Baggott reports, instead of incentivising buyers to part-exchange their old, dirty, polluting diesels for cleaner new models with some sort of scrappage scheme, Hammond did the exact opposite, taxing buyers of new cars higher from April. Completely baffling – and James talks to leading industry figures to get their thoughts.
One of the most popular features we're running in the magazine at the moment is 'So You Wanna Be A Car Dealer?'. Issue 118 contains the latest instalment of sound advice from Dan Read, in which he looks at the 'legal stuff' you'll need to know if you want to start trading. And talking of legal matters, we also have another dose of great advice from our friends at Lawgistics.
New cars reviewed in issue 118 include the BMW M5, Jaguar E-Pace and Subaru Impreza, and we go on a Moroccan desert adventure in a BMW X3, pictured at top.

With the popular finance and recruitment pages, plus our great regular columnists such as Big Mike and Ben Garside, issue 118 of Car Dealer is not to be missed!
MORE: Exports drive UK car manufacturing in November
MORE: Christmas delight for couple after winning £20,000 Kia Sportage
MORE: Auto Trader to launch new finance search function
From Workshop Magazine: Charity gives young people access to classic car maintenance