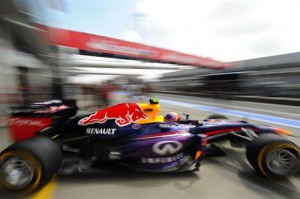 WORKING out how to blow the best part of $20m isn't something many of us will get the chance to consider, but when you're sitting on one of the world's biggest car manufacturers' marketing budgets, these decisions come along pretty frequently. 
Simon Sproule is in charge of a multi-billion dollar marketing budget for Nissan and Infiniti and is tasked with raising both brands' awareness with big ticket deals that put his car makes in front of trillions of potential buyers.
But that's not as easy as it sounds. Now more than ever marketing has become a science — and it's far more complicated than shelling out on quarter-page adverts in the Bolton Bugle… especially when you're looking at things from a global perspective.

I was fortunate enough to travel to Silverstone this year for the British Grand Prix where the chaps from up-and- coming premium car brand Infiniti took me behind the scenes of the Infiniti Red Bull Racing team.
As you can read in Issue 65 of Car Dealer – click here to download it free to your iPad – we heard how the manufacturer is leveraging its association with the world championship winners and current king of the paddock Sebastian Vettel, for its road car programme. It was clear there are big plans for the brand to eke everything it can from the tie-up.
However, if some of the other deals the manufacturer was considering to help raise the brand's awareness worldwide had come off, things could have been very different. During dinner the night before the GP I got chatting to Sproule and the American marketing guru who brokered the deal with Red Bull Racing and asked why they picked F1.
The pair explained that the problem when you're a big brand with big bucks to spend on a big project is that there are very few genuine global sporting names to blow your cash on. Sproule told me how the Infiniti team got together a few years ago to decide how to raise the maker's profile. Infiniti is well known in America but in other markets, especially Europe, it's still relatively unknown.

They decided to go large with a sports deal to raise awareness. But why sport? Well, the marketing guru explained that with sports teams it's relatively easy to achieve what you set out to do — stick your name on a football club's shirt, for example, and you get exposure across the world… especially if you pick the right one.
Sproule praised Chevrolet's £40m deal with Manchester United as 'good value' and told me the team's fan base in emerging markets alone was worth the spend. 'The best bit about a football team shirt deal is that people actually pay to have your brand name on their clothes,' he added.
So football team sponsorship deals were seriously considered and all the 'usual premier league suspects' were on the table. Infiniti even looked at sponsoring the big footie leagues but the Premiership was out because it's already sewn up, as was the Champions League and World Cup. Another option was a Super Bowl advert. These slots reach millions of people but the cost of a 30-second ad, including production, can easily top £10m. That's a lot of zeros for not a lot of seconds.
'The problem is there are very few true global teams, or sports, that appeal across the world,' said Sproule.
Andreas Sigl, Infiniti's F1 programme director, told me that although the F1 deal made sense, it was still a difficult decision for the car brand to make. At the time Honda, Toyota and BMW had all pulled out after getting their fingers burnt and entering a solus team could be 'commercial suicide'.
That's why the car maker decided to do things differently and backed an F1 team that already knew what it was doing. Red Bull's challenger spirit and provocative brand were attractive to Infiniti so it put its toe in the water in 2010 as a partner.
Then, after dating for two years, it was time to get married, joked Sigl, and Infiniti became the headline partner. 'This deal is about more than simply being fast stickers,' said Sigl. 'We offered our engineers and Christian Horner was truly excited by that. This is a partnership, not a sponsorship.'
So has the reported $20m deal been good value?
'Like you wouldn't believe,' chuckled Sproule. 'In the first year our awareness with consumers doubled. We had better awareness than Alfa Romeo with buyers. The sponsorship has worked better than we could ever have expected.'
So well in fact that they've got cold hard facts to back it up. Sproule reported back to supreme Renault Nissan Alliance overlord Carlos Ghosn that in the first year Infiniti achieved a media value equivalent of $250m and in the following 12 months a whopping $339m.
That's quite a healthy return for a $20m investment whichever way you look at it. The fact that champ Sebastian Vettel is happy to put his name to some of their sporty models comes as somewhat of a nice bonus.
And you thought the business of selling cars was a complicated game…