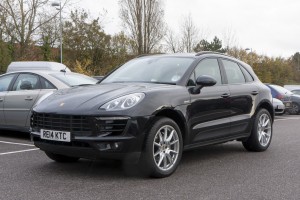 DEMAND for one sports car is so high that dealers have been barred from offering customers a hefty instant profit to sell it back to them.
The remarkable popularity of the depreciation-defying Porsche Macan emerged during research by car information and running cost experts CAP Automotive.
It means motorists who have run a Porsche Macan for several months are looking at potential profits running into thousands, if they choose to sell, effectively turning motoring costs into a significant investment return.

CAP car pricing expert Tim Bearder was told by one dealer that the only thing stopping them immediately offering to buy Macans back from customers on the same day they were sold was that Porsche forbids such a move.
Bearder said: 'There have always been a few cars that fetch more than their original cost new, when demand seriously outstrips supply. But we're usually talking about situations where someone is lucky enough to be able to afford to spend £75,000-plus on a rarity, classic or supercar.
'But the Macan, starting at just under £44,000 for a standard diesel model, costs much less new than any car that would normally guarantee you no depreciation or even a return on your investment.
'I have spoken to dealers who would be prepared to sell a Macan and instantly offer the customer several thousand pounds more to buy it back, were it not for the fact that Porsche forbids such a practice.

'Demand for the Porsche Macan began well before its launch in March 2014 and the waiting list reached almost two years in some cases. Typically, dealers will quote you around 14 months to guarantee you a car.
'Our research indicates that every used Macan currently advertised in the retail market is priced above the original manufacturer's cost new, even when you take all the additional fitted options into account.
'Perhaps the biggest winners in all of this are those specialist dealer owners who were able to get their hands on the first models early on.
'They have had the pleasure of driving a superb car for several months and still stand to make a good profit over the list price.'
MORE: We learn some lessons from the NADA experts
MORE: Top tips for car dealers from Twitter and Facebook executives
MORE: Renault to revamp all its dealerships by the end of 2017