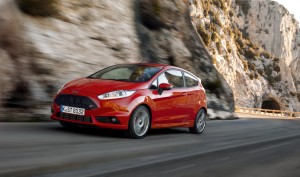 FORD has high hopes for its new Fiesta ST, the firm has suggested, just hours after the standard Fiesta was revealed as the top selling car in the UK this March. 
Speaking to Car Dealer, Ford of Britain sales director Andy Barratt revealed that the firm hoped its newly-launched baby ST would become a best-seller within its segment.
'That's certainly our plan,' said Barratt. 'We're really encouraged by Fiesta's sales in March, and if you look at our history with Fiesta hot hatches, you'll notice that typically it's been very good.

'If you go back far enough, you'll see that sportier versions have had as much as a 20 to 30 per cent mix within the Fiesta range before, and although that's not likely to happen this time because of a change in demographics over the years, we are seeing significant early demand for Fiesta ST.
'People want the car today, which is a really good sign, and they're getting impatient with me because they're not coming through quickly enough. And that for me is a really good barometer for the car.
'The educated feedback from the early test drives has been really encouraging too – it's been fantastic – and that I think builds for long term success of new Fiesta ST.'
Barratt also revealed that the ST version of the Focus was performing well – with the firm 'encouraged' by the way sales are going. The estate version is also said to be carving a niche for its self – with an interesting mix of practicality and speed making it popular to some rather unexpected customers.

'What's interesting is that it's appealing to sectors that we wouldn't necessarily expect it to go to – for example we're seeing a little bit of Police demand for the estate,' revealed Barratt.
'Which makes sense, as it's durable, fast when they want it, and as apposed to some of their normal stuff they're not filling it up twice on a shift. So on balance, really pleased with Focus ST, incredibly happy with Fiesta ST, and we feel that in many ways they do complement each other even though they're quite different cars.'