So is it hero or zero? James Fossdyke travels to Newcastle upon Tyne to put Kia's first dedicated hybrid to the test
What is it?
Though Kia's new 500X-rivalling Niro looks much like any other run-of-the-mill crossover, it's actually far cleverer than most of its competitors. It's the first Kia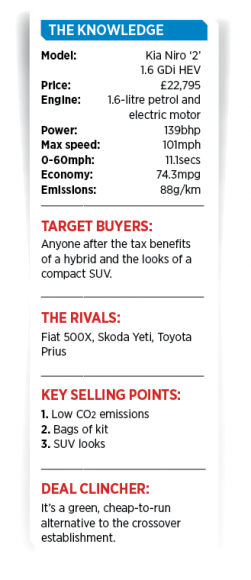 that's been designed specifically to house a hybrid powertrain, and as such it aims to nab sales not only from the likes of the Skoda Yeti and Mini Countryman but also the Toyota Prius and Hyundai's new Ioniq.
What's under the bonnet?
The only powerplant offered on the first Niros is the 139bhp combination of 1.6-litre petrol engine and electric motor. They drive the front wheels via a six-speed automatic transmission, which allows a quoted fuel economy figure of 74.3mpg and 88g/km CO2 emissions, as well as an 11.1-second 0-60mph time and a 101mph top speed. A plug-in hybrid version is expected to arrive for the 2017 model year, and will likely prove even more economical.
What's the spec like?
With a £21,295 price tag, the basic Niro is £7,000 more than the cheapest Fiat 500X, but it is far better equipped than its Italian rival. Unlike the Fiat, alloy wheels and two-zone climate control are standard features. The best-seller is likely to be the '2' model, which costs £22,795 and comes with part-leather seats, a reversing camera and a seven-inch touchscreen satellite navigation system, among other goodies. Those desperate to spend more money can go for the '3' and First Edition cars, which add toys like 18-inch alloys, leather seats and bigger touchscreens, but cost almost £25,000 and £27,000 respectively and spoil the otherwise solid economy figures.
What's it like to drive?
Hybrid cars are often associated with refinement, but the Niro doesn't actually major on quietness. In fact, despite its near-silence on inner-city roads, there's a lot of tyre roar on the motorway, not to mention the drone of the engine. The Kia's steering is too vague and light for it to be considered sporty, but it grips well in the corners and the way it contains its body roll is a match for any of its rivals. It's quite comfortable, too.
What do the press think?
According to Carbuyer, the Niro 'is an impressive first stab at a hybrid car', while Top Gear said 'if you're dead-set on this style of car, and want loads of kit for the money, a reassuring warranty, and you do a lot of town driving, you might step this way. And we wouldn't laugh at you'.
What do we think?
Thanks to the steep asking price and strong environmental credentials, the Niro will probably be more popular with company car drivers than private buyers, but the low CO2 emissions and the equally low tax rates they permit will be tempting enough for some.