Small businesses that missed out on the £10,000 government grant because they were not on the local council's rates list could now get the money.
The Department for Business, Energy, Innovation & Skills (BEIS) has confirmed a new £617m scheme to support businesses in shared spaces, regular market traders and small charity properties.
The business secretary Alok Sharma and minister for regional growth and local government Simon Clarke spoke to local authorities in England today (May 2) about the £617m fund.
The official confirmation follows Conservative MP Ben Bradley letting the news slip that the help was coming in a Facebook post last night, as reported by Car Dealer Magazine earlier today.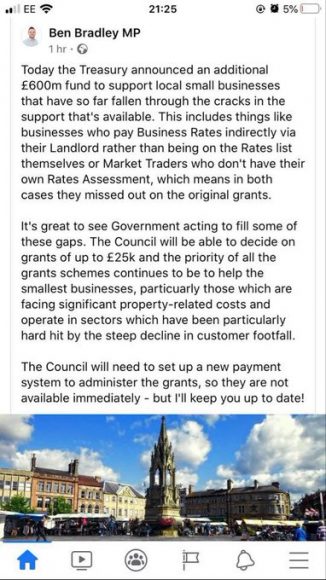 Aimed at those firms who have 'fallen through the cracks' with the support already announced, the new money could see businesses who pay their rates via their landlord and market traders who do not have a rates assessment get the £10,000 grant.
But it will be at local authorities' discretion who gets the money, and can include Bed & Breakfasts that pay council tax rather than business rates.
Businesses must be small, under 50 employees, and they must also be able to demonstrate that they have seen a significant drop of income due to coronavirus restriction measures.
There will be three levels of grant payments. The maximum will be £25,000. There will also be grants of £10,000. Local Authorities will have discretion to make payments of any amount under £10,000. It will be for councils to adapt this approach to local circumstances.
Further guidance for local authorities will be set out shortly, said BEIS.
The official statement from BEIS added: 'This is an additional five per cet uplift to the £12.33bn funding previously announced for the Small Business Grants Fund and the Retail, Hospitality and Leisure Grants Fund, so up to £617m. We will confirm the exact amount for each local authority next week.'
Many small businesses had missed out on the payments distributed via their local council. Car Dealer Magazine publisher Blackball Media was one of them.
The publisher's office is based on land owned by another company and rent includes a proportion of rates. However, Gosport Borough Council could not issue the £10,000 grant as the business did not appear on the rates assessment list.
There will be many businesses across the country in similar situations – and it is these small firms that need the grants desperately.
The government departments responsible for the scheme have been contacted and we are awaiting comment.
More: Chancellor backs £50,000 loans to small businesses