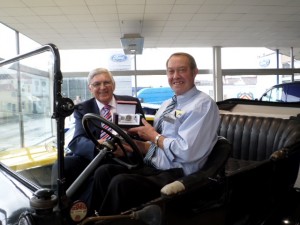 TWO staff members at Bridgwater Ford have retired after clocking up 99 years of loyal service.
Parts supervisor Ken Wilkins White Brothers 50 years ago this month while service advisor Dave Vowles joined the team at Valley Motors in Taunton as a technician 49 years ago – two years before it became part of White Brothers.
The firm eventually became part of Foray Motor Group, which operates 10 Ford outlets in the West Country.

Ken and Dave have both received engraved gold watches to mark their long service to the area's Ford owners.
Ken's presentation was made by Foray Group parts director Howard Jenkins in the driver's seat of a Model T Ford in the Bridgwater showroom (pictured).
'It's hard to replace such experienced team members and Ken will be sorely missed by the team in the main Foray parts distribution centre at High Post,' said Howard. 'On his last day he paid a visit to meet all the staff he had dealt with so efficiently but had never actually met.'
Foray Motor Group's service director Kevin Graves made the presentation for Dave. He said:  'Dave has been a real asset to all the companies he has worked for and we will all miss him, both colleagues and customers.'

Foray managing director Chris Yoxon said the group was lucky to have inherited some very special staff along the way.
'The good thing is all these people are happy to pass on their knowledge and standards to the next generation, which can only be of benefit to future customers,' he added. 'Both Ken and Dave have given Foray a real legacy.'