Electric car charging infrastructure is set to get a boost over the next five years according to the latest home charger data. 
Research from charging point manufacturer Andersen has shown that by 2025 there could be 350,000 homes in the UK fitted with charging points, which would see a considerable shift in car buyers opting for a fully-electric or plug-in vehicle over the same period.
The latest new car registration figures from the Society of Motor Manufacturers and Traders (SMMT) have shown that while battery electric vehicles (BEVs) have a market share of only 4.7 per cent, they have seen the most growth in June and 2020 to date.

However, BEV and plug-in hybrid vehicles (PHEVs) combined now hold nearly eight per cent of new car registrations for 2020, up from 2.1 per cent in 2019.
Andersen quote in their research that it is expected there will be 1m EVs on UK roads by 2025 too, bringing with it this spike in home chargers.
The data has used statistics from the Department of Transport on home chargers installed between January 2015 to December 2019 to predict the next six years.
Andersen claims from its modelling that the rate of growth would suggest from 2021 more than 30,000 home chargers are installed a year reaching 67,480 in 2025.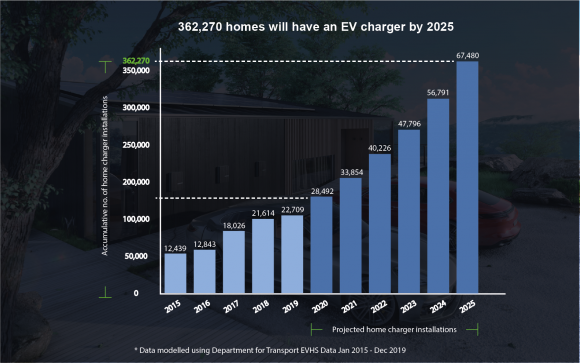 Jerome Faissat, commercial director of Andersen, said: 'At Andersen, we're in no doubt that electric vehicles are the future.
'As we move towards a 'new normal' in the wake of the coronavirus, we've seen clear evidence that people want to change their habits so that they can move forward in a way that is more mindful.
'Over the past three months, pollution has fallen in our cities and we've enjoyed the cleanest air we've had in decades, and it's inspired many to rethink the way they get around. We're seeing people vote with their feet – as they make the switch to an electric car, bike or scooter.'