GOT your passports ready? Good! Because in just two days' time Bangers4Ben will be setting off!
It's the ninth year we've organised this fun rally in aid of the automotive charity and it really will be a truly spectacular event.
The theme this year is The Alpine Special and some 50 cars have signed up for the four-day madcap run to the Swiss Alps – dipping into Italy – and back, covering more than 1,500 miles.

It's going to be another fantastic opportunity for entrants to have fun while raising money for a very worthy cause. All the cars have cost them less than £750 and been 'prettied up' to make sure they stand out – the image above from a previous B4B gives some idea of the craziness involved!
Of course, there's no guarantee that a car costing less than £750 will last the journey, but that's all part of the fun challenge. However, our good friends at the AA will be providing full support every mile of the way.
Last year's B4B raised a record-breaking £56,448 to help not-for-profit organisation Ben, which partners with the automotive industry to provide life-changing support for its people and their families, and we're aiming to smash that amount.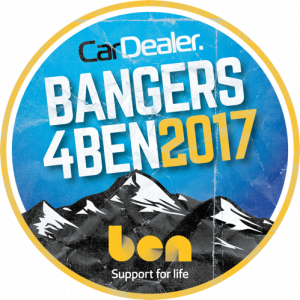 It's a challenge like no other and one that takes in the best elements from previous B4Bs. En route, the B4Bers will be putting their bangers through their paces along the Furka Pass, San Bernardino Pass, Klausen Pass and world-famous Stelvio Pass.

Yup, Bangers4Ben 2017 – or #B4B17 – really will be all about the driving, fun and adventure.
Once the bangers are back in Blighty, they'll be auctioned off to raise even more money for Ben.
The #B4B17 itinerary
Day 1 – October 7: 390 miles, Calais to Illkirch, France
Day 2 – October 8: 350 miles, Illkirch to Davos, Switzerland
Day 3– October 9: 395 miles, Davos to Illkirch via Stelvio Pass
Day 4– October 10: 390 miles, Illkirch to Dover
It promises to be an almighty alpine adventure!
Anyone who hasn't received their details yet should contact Ben head of events Kelly Neal on 01344 298100.
MORE: Bangers4Ben 2016 winners revealed
MORE: Mike Brewer becomes first celebrity ambassador for Ben
MORE: Ben on the road thanks to Perfect Placement
On SuperUnleaded.com: 5 things you didn't know about Forza Motorsport 7