ASTON Martin Lagonda's production complex at St Athan is nearing completion with the paint shop installed and construction of the assembly line well under way.
The luxury sports car and grand tourer manufacturer's site, which started life as a series of Ministry of Defence super-hangars, is being transformed into a state-of-the-art luxury manufacturing plant. Already home to some 100 employees, it will be the British marque's second assembly facility and ultimately become the company's 'Home of Electrification' when its planned battery-electric models enter production.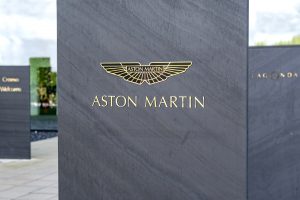 Once fully commissioned early in the first quarter of 2019, when production of the next phase of prototype models will start, the workforce will be boosted to nearer 200.

More than 70 Welsh employees are set to join the St Athan team, having spent the past two and a half years being trained at Aston Martin's Gaydon HQ. This core group of experts will then train new employees at the St Athan plant.
The workforce will steadily increase during the first half of 2019, then increase rapidly to more than 700 by the first quarter of 2020 as production of its first SUV – the DBX – ramps up.
Andy Palmer, Aston Martin president and group chief executive, said: 'As the St Athan facility nears completion, there is a very real sense this is the start of a bold new era for Aston Martin Lagonda.
'A second production facility is a critical step in delivering our Second Century Plan. The St Athan facility will initially commence with the production of our first SUV but will ultimately be a global centre of excellence for the production of luxury high-performance EVs, including Lagonda – the world's first luxury electric automotive brand.'

The DBX is scheduled to be unveiled during the last quarter of 2019.
MORE: Aston Martin completes second phase of St Athan assembly plant
MORE: Aston Martin valued at £4.33bn as luxury carmaker drives to stock market
MORE: £10m bid for Jim Clark Aston Martin at Festival of Speed breaks record