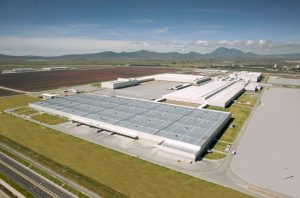 AUDI has begun production of its refreshed Q5 at a new "smart factory" that's so advanced it doesn't waste a single drop of water.
The clever new production facility, based in San José Chiapa, Mexico, opened a month ago and is as packed with as much technology as the car it produces.
Production of the new Q5 moved here to make imports into the States quicker and more cost effective and at the same time Audi grabbed the chance to revolutionise car manufacturing.

The factory itself was built 30 per cent quicker than similar facilities thanks to much of the design taking place virtually. Audi's engineers used virtual reality to collaborate on the plans even though they were based in different parts of the world.
This virtual planning helped the factory's design team complete the layout for the press shop, body shop, paint shop and assembly line on an area of 988 acres in the record time of just three-and-a-half years.
Professor Rupert Stadler, chairman of the board of Audi AG, said: 'The plant in Mexico is a milestone in the history of our company and an important step in our internationalisation. It is one of the most modern factories on the American continent. With this facility, we have established an important site for the export of our automobiles to customers all over the world.'
The plant has an annual production capacity of 150,000 Q5s and by the end of the year, it will have created a total of 4,200 jobs.

MORE: Car dealerships 'too focused on short-term sales'
MORE: I thought I'd seen every trick in the book – I was wrong!
MORE: All classic car sales now under one roof for London dealer Hexagon
On SuperUnleaded.com: A Hippo Took On A Ford Ranger And Won