Here are the motoring, news and business headlines on Monday, August 17
New Bond inspired Aston Martin models
Aston Martin is celebrating the release of the 25th James Bond film with two exclusive 007 special editions inspired by the cars featured in No Time to Die. 
To celebrate the film being released in November the brand's 'Q' branch has produced a V8 inspired by the original from The Living Daylights and a special DBS Superleggera, both with subtle nods to the franchise.

No Time To Die features four Aston Martins: the DB5; the Aston Martin V8; the DBS Superleggera; and the Valhalla – the company's forthcoming mid-engined hypercar.
Third of workers not expecting office return until at least next year
One in three British workers do not think they will not be back in their office or other workplace until at least next year, according to a new survey.
Twenty-five per cent of staff said they expect to return to their place of work in 2021, while eight per cent said they are likely to work from home indefinitely.

But 45 per cent of the 4,001 workers polled by YouGov said they expect to be back in the office before the end of December. Just over a fifth of employees were unsure when they would return.
Japan's economy shrinks at record rate due to pandemic
Japan's economy shrank at an annual rate of 27.8 per cent in the April-June quarter, the worst contraction on record, as the pandemic impacted on consumption and trade, according to government data released today.
The Cabinet Office reported Japan's preliminary seasonally adjusted real gross domestic product (GDP) fell 7.8 per cent quarter on quarter.
The world's third largest economy was already ailing when the virus outbreak struck late last year. The fall-out has since gradually worsened both in Covid-19 cases and social distancing restrictions.
£37bn property spending spree in busiest month in a decade
Rightmove has seen its busiest month for sales in a decade, as buyers and sellers focused on property rather than holidays.
The website said sales worth a record sum of more than £37bn were agreed in July – marking the highest monthly total since its records started over 10 years ago. In July last year, £25bn-worth of sales were agreed.
Across Britain, the average asking price on a home in August now stands at £319,497 – edging down slightly by 0.2 per cent or £768 from £320,265 in July, which had been a record high.
Selfridges plans repairs and resale in sustainability push
Selfridges has said it is looking at launching into product repair and resale as part of plans to radically improve its sustainability.
The department store chain has said it is also exploring a move into 'refill and rental' of some products as part of a commitment to change how customers shop in its stores by 2025.
The proposals are part of the retailer's new Project Earth sustainability initiative. It said the new programme will start with eight weeks of experiments across its stores and online aimed at seeing how it can reinvent certain retail models, working alongside more than 300 brand partners.
Government urged to let beaver populations expand in England
Beavers should be allowed to stay on a number of English rivers where they are already living wild, the government has been urged.
The semi-aquatic mammals, which are making a comeback after being hunted to extinction more than 400 years ago, should also be given legal status as a native species, as part of a national strategy.
And plans should be drawn up to license the release of beavers to other suitable rivers, including from where they are currently living in enclosures, proposals drawn up by wildlife charity Beaver Trust and other groups say.
Motorcyclist sets 109mph handlebar wheelie record
A motorcyclist from County Durham has performed the fastest ever handlebar wheelie, by travelling at 109.2mph – and says he can go faster.
Jonny Davies, also known as 'Stunter Jonny', performed the trick – which sees riders rest their legs over their handlebars – at the Motorcycle Wheelie World Championship at Elvington Airfield, North Yorkshire.
The father-of-one from Peterlee says he managed 122mph in practice, well above the previous record of 108mph, but a strong headwind made the ride more difficult and dangerous.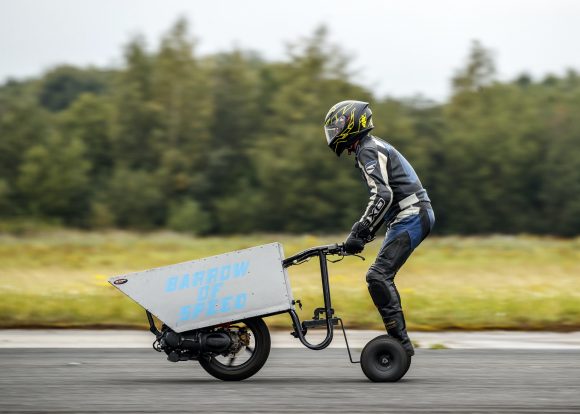 Gardener sets speed record at 44mph behind a wheelbarrow
Meanwhile, a man from Oxfordshire says he has set a speed record by travelling at 44.6mph behind a wheelbarrow.
Kevin Nicks, 55, a contract gardener from Chipping Norton, built the Barrow of Speed during the UK's coronavirus lockdown. 
'I'm here with people who do over 200mph on motorbikes and they've all said this machine is insane,' he told the PA news agency.
Call for more volunteers after 100,000 register for future vaccine trials
The government is calling on more members of the public to register for future clinical trials into Covid-19 vaccines after an initial 100,000 volunteers signed up.
The NHS Covid-19 Vaccine Research Registry was created in July to allow people to express their interest in participating in a clinical trial and to be contacted by researchers.
The government is now encouraging more people to join the registry by October to enable large-scale studies to take place across the UK.
More showers on the way
The BBC reports that today will see showery spells of rain continue in southern and central areas and it will be mainly cloudy in northern areas with showers too.
This evening there will be more rain with the chance of thunderstorms diminishing in England and Wales. It will still be cloudy with patches of mist or drizzle overnight, though.
Tomorrow, there will be showery spells in southern and central areas and it will be cloudy in northern areas with the chance of a few showers too.