The latest issue of Car Dealer Magazine is out now – fully refreshed with a more digital-friendly design.
After a successful run of digital-only issues in the same style as our much-loved printed magazine, we've gone back to the drawing board and created a new design that's better suited to being read online, rather than in physical form.
James Baggott, founder of Car Dealer, said: 'I am delighted we can show you our new look Car Dealer Magazine in digital format. Since we changed the magazine to a digital platform we have wanted to improve its design to make it easier to read on mobile phones and tablets.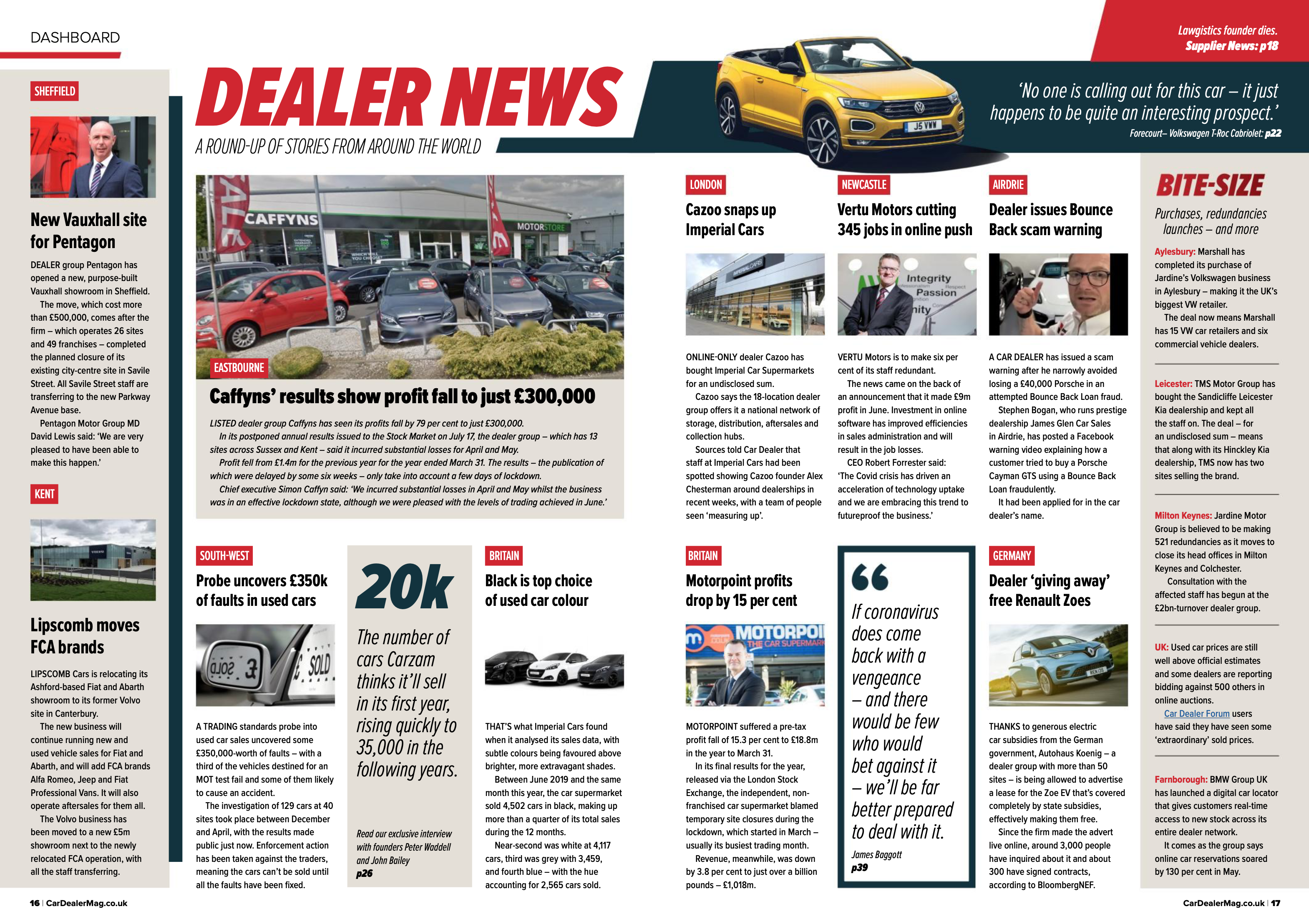 'Now we are very lucky to have our talented designer back on the case and he's worked very hard to produce this new look magazine. I hope you find it more user friendly and I welcome any feedback you've got abut it as we'll be carefully refining it as we go forwards.'
As usual, our digital magazine can be viewed here on this post, or you can download the Issuu App to your iPad or other tablet to get a more immersive experience.
To view this month's issue just click on the image above and you can view it full screen, zoom in and out to read the stories and flick through the digital pages.
Inside this month's issue:

News
You'll find our usual bite-sized round-up of the month's comings and goings, covering the latest in dealer, business and supplier news.
We've also covered the latest car news – the latest models that will be filling your forecourts before too long (and some that might not be!).
Investigations
This month we piece together just what's going on with used car prices during these strange times. We've quizzed 10 industry experts for their thoughts on what's causing such high prices, and how long it will continue.
Interviews
We've been chatting to two big-hitters from the franchised and independent dealer worlds.
Marshall boss Daksh Gupta discussed how the group has weathered the Covid-19 storm so far, and told us how he thinks the dealer landscape will look in 12 months' time.
Big Motoring World founder Peter Waddell took us on a guided tour of the his vast new preparation centre, set up to help new online sales venture Carzam deliver an astonishing number of cars when it opens in September.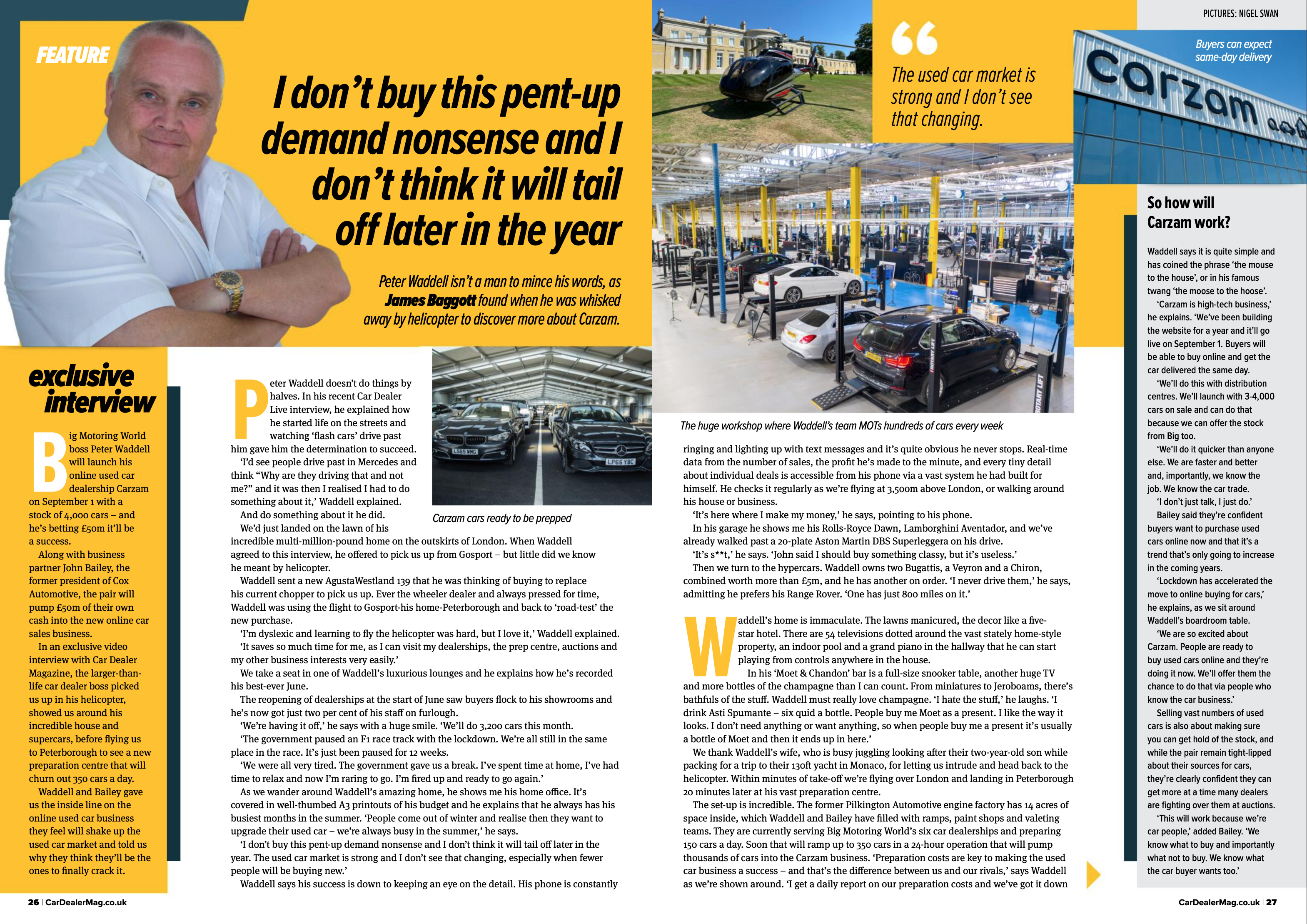 Car Dealer Live round-up
A wide range of names have graced our (virtual) interview chair in the last month, from Caterham Cars boss Graham Macdonald, to Car Quay's Jamie Caple and Craig Vladimirovs. We round-up our favourite bits here.
Volkswagen T-Roc Cabriolet
It certainly won't be to everyone's tastes, but could VW be on to a winner with this crossover-cabrio formula? We find out.
Lotus Elise Cup 250
The world has changed a lot since this generation of Elise first appeared, but that hasn't stopped the Lotus boffins continuing to tweak the car. Does it still make sense in 2020?
Petrol vs Electric
Writer Darren Cassey puts two very different Porsches head to head – the new fully-electric Taycan, and the very much still petrol-powered 911 Turbo S.
Columnists
James Baggott muses the benefits of our new home-working mentality
James Litton has bad news for anyone with their eye on a lockdown-friendly campervan
Big Mike falls in love with a 1998 Fiat Punto
Advice
How to offer test drives from customers' homes – and should you?
Facebook Marketplace's experts give pointers on making the most of the platform
Lawgistics offer the latest updates on the ever-changing legislation of furlough and redundancy
UHY Hacker Young discuss how to steer clear of fraudulent activity
Suppliers
First Response's Ben Garside on supporting dealers through trying times
heycar on why content is king when it comes to reaching buyers
V12 Vehicle Finance on how its partnership with City Auction Group could help you source and fund stock
The easiest way to access it is by clicking on the digital magazine at the top of this page. 
For a quick video on how to do it, click below:
Want to read on your mobile device? It's also viewable in the Issuu app, both for iOS and Android. Switch your notifications on and you'll get an alert every time a new magazine is published.
Want to make sure you're kept informed about new magazines being published? Subscribe to our email newsletter, and you'll be contacted as soon as each issue is released.
And for daily breaking news updates Join our WhatsApp group to get them sent straight to your phone. Email us via the website here to get a link to join.