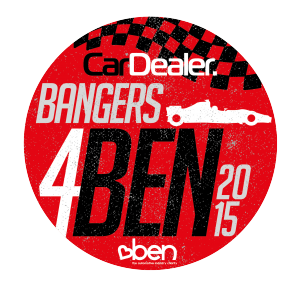 AUTUMN has arrived, folks, and this can only mean one thing: the popular Bangers4BEN annual charity run is upon us.
In fact, it's this weekend, and will see faces from across all sectors of the motoring industry – including the Car Dealer crew – slipping into their latest fancy dress outfits, jumping behind the wheel of their appropriately decorated £500-£750 vehicle and embarking on another European adventure to help raise money for BEN. And this year, we'll be visiting a handful of the world's iconic race circuits.
The road trip schedule
Kicking things off at the capital of UK motorsport and home of the British Grand Prix, this year's Bangers4BEN contenders will begin their journey with a lap of the Silverstone international race circuit in Northamptonshire, before heading to Dover and crossing the Channel to France before heading towards  Namur, Belgium.
Once the wacky racers have hopped out of bed, day two will see the convoy head to Germany, where the team can follow and indulge in the history of BMW and the technical development of its cars at the BMW Museum in Munich.
Following this, it will be time for a well-earned dinner after a long day.
Day three will begin with a refreshing lap of the Nurburgring, or for those who fancy some R&R, a direct straight to the hotel in Spa, Belgium.
To make sure our trip ends on a high note we'll finish it as we started it, with a visit to Circuit de Spa-Francorchamps, home of the Belgium Grand Prix. Here, we'll receive a private tour of the circuit and an on-track pace lap of the seven-kilometre track. Following that, it's off to Calais to catch our ferry home. Then it's off to the auction house for our trusty motors.
In total, the B4B convoy will have covered 1,427 miles, and we're sure there'll be plenty of action-packed memories to share on our journey, so don't forget to follow our updates using the hashtag #B4B15.
In brief:
Day 1: Saturday 10th October – Silverstone, England, to Namur, Belgium
Day 2: Sunday 11th October – Namur, Belgium, to Munich, Germany
Day 3: Monday 12th October – Munich, Germany, to Spa, Belgium
Day 4: Tuesday 13th October – Spa, Belgium, to Dover, England
#B4B15 Tweeters
The excitement is building and we're eager to see the final motoring masterpieces at Silverstone this Saturday. While some reveal their cars on Twitter, others are keeping their creations under wraps. But to give you a taste of what's to come, here's a look at this year's top tweets so far:
We've only got 4 days left to turn this into a DeLorean, we could really do with a time machine…. #B4B15 pic.twitter.com/g9SlfZ223a

— Captain Caralot (@CaptainCaralot) October 6, 2015
Looking forward to the @Bangers4BEN rally! Donations would be very much appreciated. Text LIMO55 £5 to 70070 #B4B15 pic.twitter.com/OX4zOD2auP

— TRACKER (@Tracker_UK) October 6, 2015
Countdown for #b4b15 https://t.co/4wjRYMIg8N we're (almost) ready w/@Bangers4BEN @CarDealerMag @LucyPinewood

— Pinewood (@pinewoodtech) October 5, 2015
We finally seem to be making some progress with our #B4B15 car although we're nearly outatime, stay tuned folks… pic.twitter.com/m6Wd8Ai7iU

— Captain Caralot (@CaptainCaralot) October 4, 2015
A week today and we will have started the challenge #b4b15 @Bangers4BEN @Nathp1988 @MarshallVolvo #cantwait pic.twitter.com/yqWrK3nXB5

— Darren Angel (@MrAngel2010) October 3, 2015
Was thinking of putting a #diy spoiler on the #savvy yesterday, what do you think? #proton #b4b15 #cars #derbyshire pic.twitter.com/fERdr30tS5

— Geoff Cox (@GeoffCoxDerby) October 2, 2015
10 days to go folks… #b4b15 #cookiesontour https://t.co/tqcjRIJXh1 pic.twitter.com/FRd2654VSC

— lucy moss (@LucyPinewood) September 30, 2015
Caught on camera!
Desperate to find out more? You're in luck! Here's a behind the scenes video of Pinewood Technologies' Cookie Monster car. Lucy and Ian (Mossy and IT) will take it in turns to pilot this old Lexus across Europe. Good luck, guys!
[iframely]https://www.youtube.com/watch?v=bwm9xMzBjY8&feature=youtu.be[/iframely]