AT JUST 23 years old, Yorkshire-based plumber Frazer King is not your stereotypical BMW driver.
Frustrated that dealerships weren't taking him seriously as a potential customer, Frazer took to Instagram to post about his search for his dream car – a move that was noticed by BMW Park Lane.
After the dealership liked one of his posts, Frazer decided to contact the dealership via Instagram direct message, thinking it would be a convenient and instant way to get feedback from the business.

BMW 'genius' James Bashford quickly responded to Frazer, sparking a direct message conversation that lasted several weeks as the pair discussed various options and priorities that helped guide Frazer's purchase.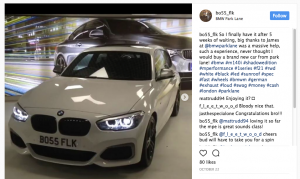 Despite initially wanting to buy a BMW M4, James helped Frazer to reflect on his needs and life stage, and he eventually settled on a BMW M140i, which he now proudly displays on his Instagram feed.
As a result of his positive experience with BMW, Frazer would urge others to use direct messages to make high-value purchases.
It proved to be a quick and efficient method of communication, allowing details to be clearly set out and referred back to, giving Frazer the chance to reflect on the information in his own time without the need for hurried or pressurised calls from salesmen.

Using this positive experience as a case study for the future, BMW is also keen to expand its use of direct messages for sales purposes.
The company is currently exploring future opportunities to employ social media responders to deal with sales enquiries via Instagram and Facebook.
Main image: BMW Park Lane
MORE: BMW and FCA alliance to develop autonomous cars
MORE: Facebook 'most relevant social media platform for dealers'
MORE: James Baggott: Big Brother isn't on his way – he's already here and knows all about you