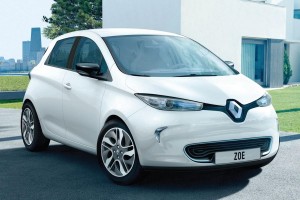 CAP has called on French manufacturer Renault to rethink the way it sells its electric vehicles – suggesting that its 'battery not included' approach may hamper both sales and future values. 
Calling on the firm to 'give some great electric cars a real chance' in the company car market, CAP suggests that Renault should revise its method for selling the EVs for the sake of the fleet market.
At present, Renault's electric cars like the Twizy and Fluence Z.E are sold at a list price that does not include the cost of the battery: Instead, owners must lease them from Renault for a monthly amount on top.

This, says CAP, makes forecasting future values for the cars impossible – likening the situation to 'forecasting the value of a conventional car with no engine'.
On top of this, new Government taxation rules have 'further weakened' the commercial prospects for Renault's EVs in the fleet and company car market , CAP predicts.
Taking the forthcoming Zoe as an example, rules coming into force in 2015 will see company car buyers pay benefit-in-kind tax not only on the full £14,000 list price of the car, but also the battery too – predicted to be around £7,000.
'Our frustration with Renault's approach is based on the fact that we believe the Zoe is a very good car that isn't getting a chance in the all-important fleet market,' said CAP manufacturer relationship manager, Martin Ward.

'We have every confidence in the quality and reliability of the Renault Zoe. We have seen it, driven it, lived with it and its 90 mile range means it definitely has a place in fleets for shorter range driving purposes.
'But until Renault removes the unnecessary layer of complexity caused by treating the battery as a separate entity to the car CAP will be unable to forecast its used values so fleets can work out competitive lease rates.'
Ward suggests that the new BIK rules may even kill the appeal of the Zoe for fleet customers altogether – with the car now far more expensive to run
'And now it has emerged that HMRC is including the battery for BIK purposes the Zoe no longer has such an attractive P11D value for potential company car drivers.
'In our opinion it is now time for Renault to give some great electric vehicles they have worked hard to develop and refine a real chance in the company car market by abandoning its "battery not included" policy.'