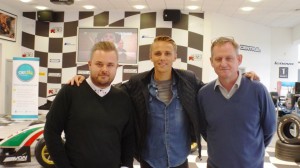 CAR sales website carcliq recently teamed up with Formula One star Max Chilton to stage a special race day for its clients and other business associates.
The event, entitled Chase Chilton, was held at Lets Race, the F1 simulator centre in Horley, Surrey, and gave the winners of a competition organised by carcliq the chance to test their driving skills against the F1 star.
Chilton, who was sponsored by carcliq for the 2014 F1 season during which he raced for the Marussia team, was on hand to chat to those present, and talk about his career behind the wheel to date.

And he was only too happy to take on all-comers in the stunning F1 simulator cars, which were set up to race virtually around Donington, the circuit at which Chilton set the record as the youngest Formula Three driver ever.
Carcliq.co.uk is a website purpose-built and designed by experts for ease of use for buyer and seller. Its founders describe it as a new concept for drivers and dealers, using the internet to its fullest extent to enable all aspects of buying, owning and selling a vehicle.
Director Jo Lewis said: 'We decided to hold this event because we have a large Formula One following within the carcliq social media community.
'Carcliq was founded two years ago but has been fully operational for 12 months now. We've got 75,000 cars on the site at the moment but that isn't indicative of what we actually could have. Next year will see us take the business to the next level, and we'll achieve a six-figure number of cars on the site.

'And we're very pleased with the way things have gone today. We wanted to do something that was fun and we wanted to say thank you to some of our dealer partners, other companies we work with, and to some of the Formula One fans who avidly follow the fortunes of Max Chilton.'
Our picture shows Max Chilton with Duncan Chappell and Dave Brown from Car Dealer at the event.