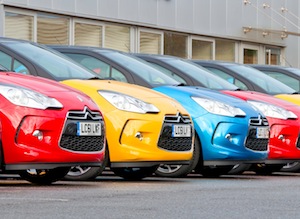 FIGURES published by the Finance & Leasing Association (FLA) show another double digit increase in the number of new cars bought on finance by consumers through dealerships.
In the twelve months to March 2013, the number of cars financed this way increased by 27 per cent, and by 22 per cent in the first quarter of this year.
Overall 127,084 cars were bought on finance through dealerships in March, with the value of all the advances reaching £1.898 million.

FLA members' penetration of the private new car registrations market was 72.9 per cent, up from 71.9 per cent in February 2013.
Commenting on the figures, Paul Harrison, head of motor finance at the FLA, said: 'Used car finance volumes in March were relatively static with the new number plate helping to drive strong growth in private new car finance sales. Our figures again highlight how affordable finance deals are helping to bring people into car showrooms.
'Secured lending – such as hire purchase and personal contract purchase agreements – can often be provided on more attractive terms, as the risk is reduced for the lender and this is reflected in the competitive deals available to customers.'