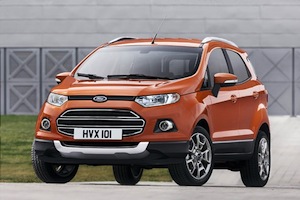 FORD dealers will soon be able to persuade crossover buyers into their showrooms with the new EcoSport SUV.
The car will be revealed at the Geneva Motor Show in March, and go on sale by the end of the year. Versions of the EcoSport are already on sale in India and South America, but this is the first glimpse we've seen of a European-spec car.
The all-new model will be available with Ford's award-winning 123bhp 1.0-litre EcoBoost engine, a 108bhp 1.5-litre petrol and an 89bhp 1.5-litre diesel engine.

Emissions and fuel consumption are expected to be low, particularly in the 1.0-litre-engined model.
The EcoSport will also feature a range of exciting technological gizmos inside the cabin, including 'SYNC AppLink', through which the driver can operate their smartphone using voice controls.
Read Issue 61 – out in March – to find out more about the EcoSport.