Laura Thomson goes for a spin in this head-turning SUV and finds much to enjoy – especially a practically absent turbo lag
What is it?
The SQ7 is the high-performance, high-price version of Audi's award-winning Q7 model. Boasting a 429bhp V8, it claims to be the most powerful diesel SUV on the market. The SQ7 is the first S model to feature in the Q7 line-up and only Audi's second venture into S-badged SUVs. It is also the first production car to feature an electrically powered compressor (EPC), which promises to abolish any turbo lag.
What's under the bonnet?
At 1,000rpm the SQ7's 4.0-litre V8 TDI produces 900Nm of torque, before peak power of 429bhp arrives at 3,750rpm.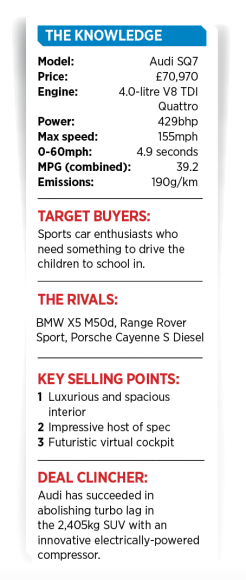 Featuring alongside its two conventional turbos, the aforementioned EPC is powered by a 48-volt electrical subsystem.

What's the spec like?
An impressive standard spec list and an array of safety equipment feature in the spacious seven-seater, with no fewer than 24 driver-assistance systems. These include a pre-sense city emergency braking system and adaptive cruise control with traffic-jam assist. Despite the SQ7's sporty credentials, comfort within the cabin is exceptional, with plentiful leg-room. The MMI navigation system takes pride of place in the centre of the dash, while the virtual cockpit is behind the steering wheel. The cleverly designed 12.3-inch display presents all required information in an easy-to-read, interactive format. A head-up display can be added as an option. Buyers have the choice between two sound systems. Alloy wheels up to 22in in diameter can also be specified, and 12 exterior paint options are offered.
What's it like to drive?
Virtually no turbo lag is felt when pulling away, thanks to the impressive EPC. A slight delay can be felt, however, as the eight-speed tiptronic gearbox selects and shifts, but this is only a slight qualm noticeable at lower speeds. While quiet and refined on motorways, the SQ7 comes into its own on tougher terrain thanks to its electromechanical active roll stabilisation, which is an optional addition.
What do the press think?
Car Enthusiast says: 'It's not perfect and it's not cheap, but even if you're an extreme anti-SUV car nut, you'll have a hard time convincing yourself the SQ7 is anything other than exceptionally good.'
What do we think?
There's no question about it. The SQ7 is a brilliantly fun car to drive, with incredible power available throughout the revs and impressive rough terrain capabilities. Taking into account the model's starting price just shy of £71,000, it's unlikely to sell in high numbers. However, buyers will find themselves the centre of attention at the wheel of this head-turner.