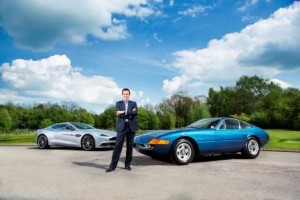 TOM Hartley Jnr has split from the family business after two decades of working with his father and brother to set up on his own.
The new business venture, named Tom Hartley Jnr, will sell luxury, performance and classic cars from a new premises in Derbyshire.
Hartley Jnr will specialise in classic cars as this is a flourishing area of the market at present.

He explained that after 20 years working for his father, Tom Hartley, the relationship isn't tarnished despite setting up on his own.
'Professionally speaking, this is the most amicable separation you can imagine but the time is now right for me to put my considerable experience, reputation and energy into a new venture that I can develop in a very personal way,' said Hartley Jnr.
In the last 12 months alone Hartley Jnr has been personally responsible for some of world's biggest private ultra-rare car sales.
These included a 1957 Ferrari 250 Testa Rossa sports racing car, the only right hand drive Ferrari California SWB Spider in existence, and the sale of a 1937 Mercedes-Benz W125 Grand Prix car.

The new business venture will expand on this existing reputation, he says.
'My stock represents only the best cars on the market and that is an unconditional pre-requisite of how I wish to trade and build my reputation,' he added.
'Furthermore, clients appreciate my no-nonsense ability to make instant outright purchase decisions on even the most valuable cars in the market, which is crucially important for many people.'
The new premises will be fully operational from June 1.