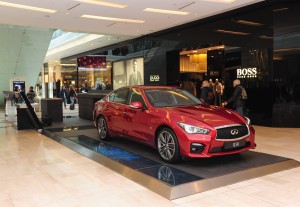 INFINITI stores have opened in two key shopping and entertainment destinations in the capital, Westfield London and Westfield Stratford City.
The car company is joining some of the world's most respected retailers and exclusive fashion brands in the state-of-the-art centres which attract more than 70 million visitors each year.
The two new stores are designed to be semi-permanent structures and will have cars on display and standing by for immediate test drives.

François Goupil de Bouillé, Infiniti vice president for Europe, the Middle East and Africa, said: 'Westfield centres offer world-class retail environments where a premium brand like Infiniti will feel naturally at home.
'The opening of the Infiniti stores provides us with a further great opportunity to get close to our customers, and to be able to share with them Infiniti's exciting and innovative spirit.'
The walk-in stores will be changing their displayed model of choice on a regular basis, giving visitors a chance to get up close and personal with the latest models and discover Infiniti's distinctive approach to design and technology.
Each store will also have a separate VIP waiting area for those who want to take test drives, close to the valet parking area.

Initially, visitors will be able to experience the new Infiniti Q50 2.0 Turbo, which will be on show at the centres and also available to test.
MORE: Download issue 82 of Car Dealer to your iPad – free of charge!
MORE: Infiniti takes control of UK showrooms