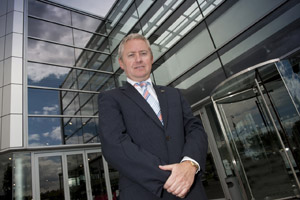 FAMILY-owned Yorkshire car retailer JCT600 has reported a strong trading performance with turnover growing to £669m in the year to December 31, 2012.
The figures from the firm's annual results show a 7.4 per cent increase from £623m in 2011.
JCT600 say the £46m increase in turnover was driven by a 17.8 per cent rise in new car turnover and a six per cent rise in used car turnover. The Bradford-based company also increased new retail registrations by 16.3 per cent, staying ahead of the national average (12.9 per cent).

The group, which has 47 dealerships throughout Yorkshire, Derbyshire, Lincolnshire and the north east, saw aftersales turnover increase by 0.8 per cent in 2012, supported by an improved customer contact system and electronic vehicle health check service.
'While 2012 has seen on-going economic uncertainty, we have continued to weather the storm,' said JCT600 group chief executive John Tordoff (pictured).
'We expect the improved customer confidence we've seen over the last year to continue and already we've experienced a strong start to the year with new and used car sales ahead of the market as they were last year.'