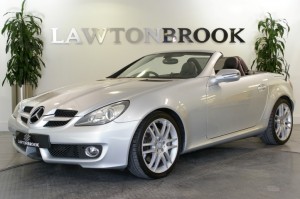 LUXURY car sales operation Lawton Brook is celebrating its 21st Birthday – and has undergone a 3/4 of a million pound refurbishment programme.
The company, based in Knaresborough in North Yorkshire, was established in 1992, and has carved a niche for its self as one of the UK's most prestigious dealers.
The firm has sold a variety of exotic metal over its 21 year life – including an ultra-rare McLaren MP4-12C GT3 racing car, as we reported earlier this year – and also has a sister company, Oracle Finance.

The re-fit, which took around eight months to complete, has seen a complete overhaul of Lawton Brook's operations.
Not only has the company completely refurbished its sales and administration offices, but the construction of a new vehicle turntable with client webinar viewing facilities have also taken place.
Lawton Brook have installed a 10kw solar PV system to reduce their carbon footprint, too, while a new IT system has aided productivity.
'We were originally based on Hornbeam Park and, when we launched a sister company, Oracle Finance, we decided we wanted to have both operations under one roof, said co-founder Peter Brook.

'Both Oracle Finance and Lawton Brook have grown considerably which was another factor that led us to undertaking this major refurbishment project.
'The investment has created more space for us to comfortably grow into. In addition, it has provided us – and more importantly our clients – with the ability to either view vehicles on site or, thanks to the turntable and webinar facilities, over the internet.
'The new IT system has been custom-designed for us and is making our life a lot easier already.'
Have you filled in our Car Dealer Power survey yet? It's a great opportunity to have your say, and you could win one of seven great prizes! Click here to enter.