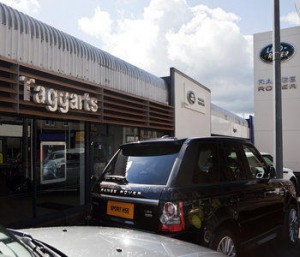 LOOKERS MOTOR GROUP has expanded its operations in Scotland with the purchase of the Land Rover dealership Shields Automotive.
The move comes shortly after Lookers announced an 'excellent' first quarter result.
The expansion into Scotland with the £8.75m purchase in cash of the Glasgow Land Rover franchise adds to the groups Lomand Audi site, which it acquired last year, and its Taggarts dealerships in Motherwell and Glasgow.

The purchase of Shields also includes a number of freehold properties to be sold after the transaction is complete.
Last year Shields reported profits of £350,000 from revenues of £20.5m. It reportedly has gross assets of £12.8m with net assets of £6.7m.
Andy Bruce, Lookers chief operating officer, said: 'We have long admired the Shields Land Rover business.'
Joe O'Donnell, the owner of Shields, wants to retire from the industry and he was keen that his business was sold to a new owner which would continue to invest in the future development of his staff, many of whom have been with him for many years.'

Lookers also state that the Shields dealership will be rebranded to align with Lookers branding strategy.
Photo credit: Taggarts