LOOKERS has been named as the official car supplier to the 2017 Yonex All England Open Badminton Championships.
The Yonex All England is the oldest and most prestigious open badminton tournament in the world.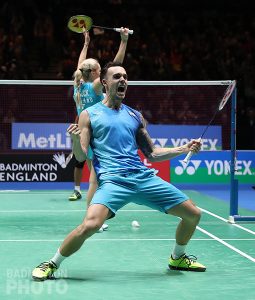 The championships feature the sport's top-10 ranked players across all disciplines and welcome entries from 32 countries. The event has a global TV audience of more than 160 million households.

Lookers is a modern motor retailer which operates from more than 160 franchise dealerships throughout the UK and Ireland. It represents 31 vehicle manufacturers and delivers more than 200,000 vehicles a year.
The company will provide a fleet of Mercedes-Benz luxury vehicles to tournament organisers Badminton England for the duration of the event, which runs from March 7-12.
The partnership is Lookers' first relationship with the Yonex All England and the sport of badminton. In addition to supplying the branded fleet of vehicles, the group will enjoy courtside and big-screen branding as the Barclaycard Arena, Birmingham welcomes more than 30,000 sports fans, families and VIPs during the week of competition.
Adrian Christy, chief executive of Badminton England, said: 'I am delighted to welcome Lookers Group to the Yonex All England.

'Mobilising the global badminton family is an integral part of our world-class event delivery in Birmingham and, with Lookers on board, we have a top-class partner to make this happen.'
Andrew Pace, head of fleet services for Lookers Group, said: 'We are delighted to be supporting such a prestigious sporting event.'
MORE: Diesel scrappage scheme could be announced in next week's Budget
MORE: Range Rover family up to four with new model Velar
MORE: TrustFord welcomes close to 200 customers for midnight handover
On SuperUnleaded.com: 5 Cool Tech Features That Are On The New Range Rover Velar