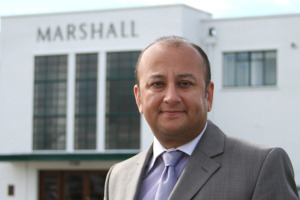 Marshall, the privately‐owned dealer group, has acquired the Audi, Volkswagen (Passenger Cars and Commercial Vehicles) and Skoda businesses in Devon and Somerset from Silver Street Automotive.
The deal includes 10 businesses in total: three Audi businesses (Exeter, Plymouth and Taunton); three Volkswagen cars businesses (Barnstaple, Bridgwater, Taunton); two Volkswagen commercial vehicles businesses (Barnstaple, Bridgwater); Skoda in Barnstaple and the Trade Parts Specialist business in Exeter.
The acquisition takes the total number of franchised dealerships in the Marshall portfolio to 70.

All 324 colleagues at the sites have transferred to Marshall, taking the headcount to around 2,300. The combined group's turnover for 2012 is £927m with Silver Street accounting for £115m.
'It is a big acquisition for us as it is a top-100 dealer group,' Marshal's chief executive Daksh Gupta told us. 'We are deepening our relationship with the Volkswagen Group – we are working with Audi and we're going to be partnering with Skoda for the first time. It also takes us into a new geographical region proving we are not just an east Anglian dealership group.
'We only entered the Volkswagen Group network a year ago – to go from zero to five passenger car and three commercial vehicle in less than a year shows the strength of the relationship and the turnaround we have managed with the original businesses we have acquired.
'To put things into perspective, four years ago we didn't have a single Kia dealership – we now have three. We didn't have any Audi dealerships – we now have three – and we didn't have any Volkswagen, Mercedes or Honda dealerships. You can see what we are doing.'

Gupta added in a press release: 'Since 2009, our underlying turnover has grown from £250m to a run rate that is rapidly approaching £1bn. 70 per cent of our portfolio is new and we have welcomed around 1,500 new colleagues to Marshall. All of our acquisitions have been funded by our own cash flows and have involved no debt. Our plan is to continue to grow the business through acquisition, but a key focus for us now is optimising the group's performance. This performance optimisation strategy is to benefit all our key stakeholders; our customers, people, brand partners and shareholders.'
Simon Thomas, chief executive of Volkswagen Group UK, said: 'This is an important acquisition event for Marshall and the Volkswagen Group. It will strengthen our partnership by increasing representation on our Volkswagen car and commercial vehicle brands whilst also introducing Marshall as a new investor to our Skoda and Audi franchises.'
The new Audi businesses will be overseen by David Waghorn while heading up the Volkswagen businesses and the Skoda business will be Chris Norris.