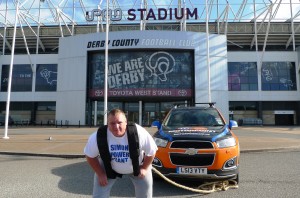 DERBY-based builder Simon Plant is hoping to break a World Record attempt next month – with a little help from Motorpoint.
The UK's leading car supermarket has joined forces with Simon to support his bid on October 7 to pull 14 cars over a distance of 50 feet at the iPro Stadium in Derby in aid of Macmillan Cancer Support.
Simon has been training hard for the World Record where he hopes to pull 23-tonne combined weight of cars in front of hundreds of spectators outside the main entrance to the home of Derby County Football Club.

Motorpoint, which has its headquarters at Chartwell Drive in the city, will be providing the 14 Ford Fiestas for the event as well as organising transportation.  The previous record for towing chained-together cars was 12 over a distance of 15 feet.
Simon is no stranger to such challenges. He held a world record 11 years ago for pulling a 28-tonne lorry over 100 feet and has competed nationally and internationally at numerous 'strong man' events.
'I can't wait to make the attempt next month at the iPro Stadium,' said Simon, who weighs in at 25 stone. 'I've been pushing myself to the limit in the gym over recent months in preparation for this day and with it the chance to raise as much money as possible for Macmillan in memory of my former trainer and good friend Errol Etherington, who sadly died from cancer.'
Satvir Atwal, general manager at Motorpoint Derby, added: 'We are extremely grateful to Derby County Football Club for allowing us to use the stadium for the World Record attempt. We are looking forward to seeing Simon on October 7 at the iPro Stadium and cheering him along together with lots of my colleagues from Motorpoint.'

Simon will be attempting to break the World Record attempt for towing chained-together cars at 12.30pm on Tuesday, October 7 at the iPro Stadium on Pride Park in Derby.