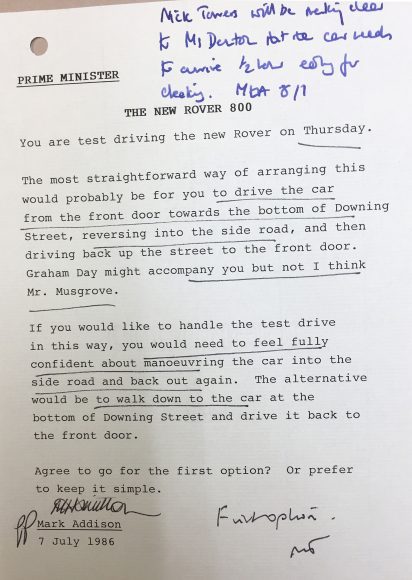 MARGARET Thatcher famously said 'the lady's not for turning', but made an exception when behind the wheel of a Rover 800, newly released documents show.
Lady Thatcher test drove the vehicle in a public demonstration in Downing Street on July 10, 1986, and agreed to perform a reverse-turn manoeuvre despite apparent concern from officials.
They went as far as organising a quiet rehearsal at the Prime Minister's country home Chequers, with the car towed down under cover behind a Range Rover.

There were also concerns Rover should supply a blue car, after a red one was delivered for a previous test drive.
Lady Thatcher's private secretary Mark Addison, in a letter dated three days before the demonstration and published as part of the latest release of her personal files, wrote to her: 'You are test driving the new Rover on Thursday.
'The most straightforward way of arranging this would probably be for you to drive the car from the front door towards the bottom of Downing Street, reversing into the side road, and then driving back up the street to the front door.
'If you would like to handle the test drive in this way, you would need to feel fully confident about manoeuvring the car into the side road and back out again.

'The alternative would be to walk down to the car at the bottom of Downing Street and drive it back to the front door.
'Agree to the first option? Or prefer to keep it simple.'
Lady Thatcher agreed to the more ambitious plan, pulled it off flawlessly and savoured the experience.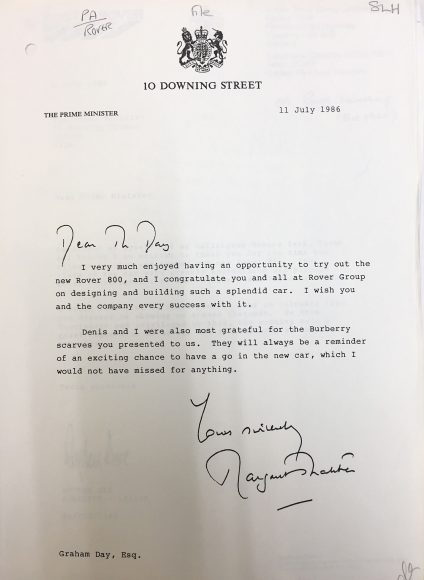 In a letter to Rover chief executive Graham Day dated the following day, Lady Thatcher wrote: 'I very much enjoyed having an opportunity to try out the new Rover 800, and I congratulate you and all at Rover Group on designing and building such a splendid car.
'I wish you and the company every success with it.
'Denis and I were also most grateful for the Burberry scarves you presented to us.
'They will always be a reminder of an exciting chance to have a go in the new car, which I would not have missed for anything.'
Chris Collins, from the Margaret Thatcher Archive Trust, said he believed Lady Thatcher had seldom driven since 1975, leading to concern from officials.
'I think I'm reading between the lines but I'm reasonably confident that there was that worry, that there was this dark fear that she would crash into something, that it would all go horribly wrong, and after all she hadn't driven for many many years,' he said.
He added: 'I think actually she did quite like driving but it was such a long time ago that cars had become a policy issue rather than a personal thing.
'She travelled in them of course all the time but it had changed and certainly she wasn't familiar with the machine.'
The Margaret Thatcher Archive Trust is gradually overseeing the release of her private files through the Churchill Archive Centre in Cambridge.
MORE: Glyn Hopkin Group renews remarketing deal with BCA
MORE: Nissan will re-evaluate its Sunderland plant post-Brexit, says CEO
MORE: Second test-drive carjacking leaves salesman 'shaken'
On SuperUnleaded.com: Driver Has A Scary Lorry Near Miss – Twice