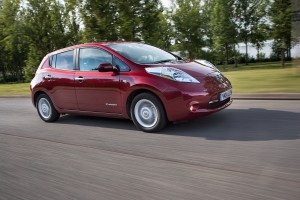 THE battle to get electric cars accepted by the British public is finally being won, but the war isn't over just yet – at least that's according to Nissan GB managing director Jim Wright.
In an exclusive interview with Car Dealer at the Paris Motor Show, Wright revealed that Leaf sales had doubled in September compared with last year, proving that a renewed strategy for sales introduced in April was paying dividends.
Overall Leaf sales in 2014 will be more
than double 2013's total too, and with other manufacturers introducing all-electric models, the public are finally starting to accept EVs as a serious alternative.

'We did 851 Leafs in September, compared with around 300 in September 2013 – that's hot news,' said Wright.
The UK chief explained how Nissan got all dealers together in April this year and told them where they were going wrong with Leaf.
'We gave them a good talking to,' he said. Wright added that following this, 30 to 40 per cent of the network had 'run with the new strategy' and it's paying dividends.
'We've still got 30 per cent who are a bit frightened of it, but if we change that then it's job done,' added Wright. 'It has helped other manufacturers who have launched their electric cars. I do think the battle is being won – well, we're at least a good proportion
of the way there.'

With 96 per cent of the UK motorway network now served by rapid chargers, it is certainly becoming easier to run an electric vehicle, and Wright believes it's becoming an easier sale too.
'From the economics point of view of it, Leaf is becoming an easy sell,' said Wright. 'When the dealer gets the sales process for it right then it becomes easier.
'We're not going to start selling 20,000 a year, but last year we did just over 2,000 and this year we'll be close to 5,000. That's a big difference.
'We're supporting dealers with Leaf-dedicated sales people, we've got Leaf public-sector sales people, we've got specific Leaf training people and we're throwing a lot of resources at it – but it's working.'
The good news with Leaf comes at a particularly positive time for the manufacturer. It had originally planned to sell 150,000 cars a year by 2016, but Wright revealed it will do that in 2014 – two years early.
He admitted that his network had felt some 'growing pains', but his ambitious plans to steal a six per cent market share were well on course.
'We will continue to grow a bit as some of our products haven't had a full year-on sale yet, but it will be nothing like what we've seen in the past couple of years. We still have a share ambition of six per cent.
'We're currently at 5.1 year-to-date,nd at the end of the fiscal year we should be 5.5. We aim to get to six per cent by 2016. If you look at the development in the past couple of years our growth has come from everywhere. We have the highest level of conquest compared with the mass-market brands.
'We need to make sure we're doing the same job in terms of loyalty too. If you put the two things together – that is, attracting a lot of new people in, driven by the product, and looking after them when they're in the franchise – then they'll come back again.
'If conquest and loyalty rates are above 50 per cent then you will naturally grow your share.
It's mechanical. That's what we're asking the network to concentrate on – when customers are in, we need to ensure they stay in.'