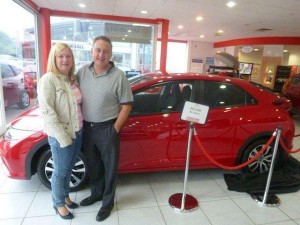 IT'S one of the two most important dates in any car showroom's calendar – plate-change day.
And dealerships up and down the country seem to be enjoying a busy spell of activity as customers arrive to pick up their sparkling new cars.
Among the first to receive their new vehicle were customers Mr & Mrs Lathan (pictured) who picked up a new Civic at Honda Durham, part of the Vertu Motors Group.

Sales manager Chris Short told us: 'Things have been pretty busy so far, although the March plate-change was busier for us this year. That's also likely to be the case next year with the timings of the new product coming through.
'We have got quite a few cars going out today though so things are pretty positive. There are some good offers and deals on at the moment attracting people to the Honda brand.'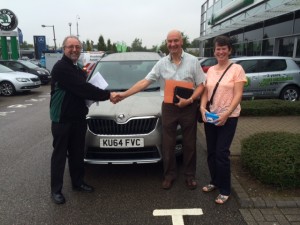 Chris is part of a seven-strong sales team at Honda Durham, with five sales executives and a business manager all playing their part in driving sales forward.
At Lancaster Skoda, Milton Keynes, Mr and Mrs Tearle picked up a new Yeti from Keith Giddings – one of 12 new vehicles going out today from the dealership.

Sales manager Vickie Walton told us: 'We're really busy – stacked out in fact!'
Twitter was full of news of dealership activity today with businesses reporting that dozens of happy customers were taking to the road in new cars.
Derby Seat had put 10 new cars on the road by 9am!
And the Greenhous Group, which operates across Shropshire and the West Midlands, was also busy with customers calling in to collect their vehicles.
The company represents a number of different franchises including Vauxhall, Nissan, Toyota, Volvo, Renault, MG and Dacia, 
as well as operating an extensive bodyshop network.
Pictured here, Tom Oliver receives his Aygo X-Cite from  Greenhous Toyota  Shrewsbury sales executive John Davidson. What's more, it's John's first handover since joining the company two weeks ago.
The Seward Group, serving the Portsmouth area in south-east Hampshire, had a hectic time, completing 17 handovers during the course of the day.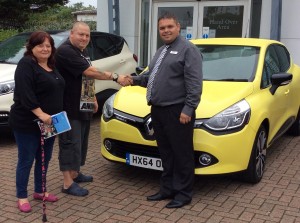 Among the customers receiving their new cars were Tracey and Robert O'Neill (right), who took possession of a new Renault Clio from sales executive Rob Sanderson.
Meanwhile Blackshaws counted the '64-reg' to be a resounding success.
Boss William Blackshaw told us: 'We have 60 orders for 64-reg. Among the customer deliveries on September 1, we handed over a new car to my mum!
'This has been our best start to a September and also a March, so we are forecasting a record month for units. I am confident the year will continue to be a success and I think the manufacturers have confidence in volume allowing stronger deals to be offered.'
@BristolStMotors @vertumotors Sam beats his wife to collect his new car, she collects her at 1 #64plate pic.twitter.com/rbaSJkHwYU

— nick harding (@nick_nharding34) September 1, 2014
Roddy McAlistair sold a brand new 911 to an 87-year old customer who was scheduled to pick it up at midnight…
Sold a brand new 911 to an 87 year old last week. He's picking it up at midnight tonight for the new 64 reg plate #1stsept #porsche #911

— Rod McAllister (@roddymcallister) August 31, 2014
Southend Audi is welcoming customers to its showroom with coffee and pastries…
#Audi #newreg #64plate Breakfast is served pic.twitter.com/jJQEGr40Wi

— Southend Audi (@SouthendAudi) September 1, 2014
Shortly after 9am, Alan Day Volkswagen handed over a 64-reg Up to a delighted Mr Lawson
First deal of #transferdeadlineday is done as Mr. Lawson completes the signing of his brand new '64 plate up! Enjoy! pic.twitter.com/LryxtPdFwM

— Alan Day Volkswagen (@AlanDayVW) September 1, 2014
And Mini Westerly Barstable proved to Twitter it had handed over a brand new Mini hatch on the dot of midnight…
You have to be quick to get the first 64 plate @MINIUK …. @miniwesterly must have been close! pic.twitter.com/w9F56cTWlm

— Westerly MINI (@miniwesterly) September 1, 2014
Meanwhile Peter Vardy Aberdeen is handing over more than 60 cars today…
First day of the 64 PLATE…and we'll be handing over, over 60 brand new cars! #happymonday pic.twitter.com/Xetmefb2AM

— PV Aberdeen (@PV_aberdeen) September 1, 2014
How are things going at YOUR dealership? Email us at [email protected] or call (023) 9252 2434. We'd be happy to put your handover pictures online and tell everyone how you're doing!