Rumours are circulating today that online used car dealer Cazoo is looking to buy 17-showroom supermarket group Imperial Cars.
Sources have told Car Dealer Magazine that staff at Imperial Cars have been seen showing Cazoo founder Alex Chesterman around dealerships.
Chesterman – who started Zoopla and LoveFilm – has reportedly toured showrooms in recent weeks with a team of people seen 'measuring up'.

There are also rumours in the business that Cazoo has bought more than a thousand vehicles from Imperial Cars.
Staff at Imperial's head office have signed confidentiality agreements to stop them talking about the discussions, but the news has leaked out. 
Car Dealer Magazine has spoken to three sources who have confirmed the news – and it is believed an announcement could be made this week.
One insider said: 'Alex Chesterman has been seen walking around the business chatting to people. Staff with him were seen measuring up.

'Rumours are rife within showrooms that a deal is about to go through.'
The deal – which could reportedly be worth around £35m – would be an interesting move for Cazoo, which set itself up as an online business.
However, it would give it access to a huge amount of stock, preparation centres and dealerships around the country that they could use for click and collect services or hubs for home delivery.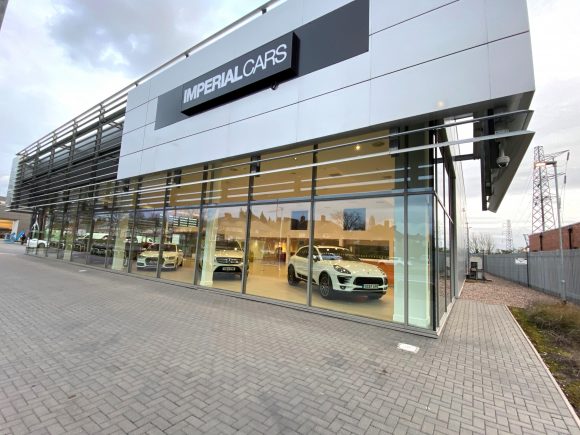 Motor retail analyst Mike Allen, from Zeus Capital, said: This is an interesting move if correct and shows that a clicks and bricks approach is often required to deliver an optimal service to customers and investors.
'I wasn't expecting Cazoo to make a move like this, but maybe they've worked out to deliver the volume of cars promised to be truly be disruptive, a small retail footprint is needed.
'I think the Cazoo proposition will remain predominately online driven, though, and is about building an online disruptive brand. The retail operations may just help to deliver on the volumes.'
Cazoo has been busy raising huge sums of money and its recent round of funding saw the firm valued at £800m. It has been heavily spending on marketing with a £10m sponsorship deal of Everton, TV and radio advertising.
Imperial Cars, started by director Mike Bell, has built a hugely successful car dealer group which made £1.1m profit in the financial year 2018/2019, the last accounts available.
A spokesperson for Cazoo said: 'We do not comment on rumours or speculation.'
All our Cazoo stories can be found here
More Used Car stories can be found here